Tattoos of Miley Cyrus
Miley Cyrus has an important collection of tattoos that has been growing rapidly since she came of age (actually the first of them "Just Breathe" was done at the age of 17, with the permission of her parents). She has declared that all her tattoos have an important personal meaning, some are related to her relatives, her friends, her religious beliefs or universal concepts such as peace or love. She generally got her tattoos done on six parts. Here we do a quick review of all Miley Cyrus tattoos and their meanings.
1. Tattoos Around Miley Cyrus's Body:
phrase "Just Breathe", dreamcatcher pattern and Floyd memorial.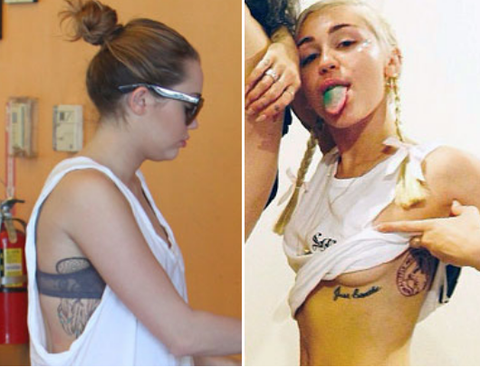 The tattoo which is under her left breast was Miley's first tattoo and was not without some controversy when she was only 17 years old although it was later learned that she had done it with her parents' permission.
2. Tattoo on Miley Cyrus's Right Ear: " Love".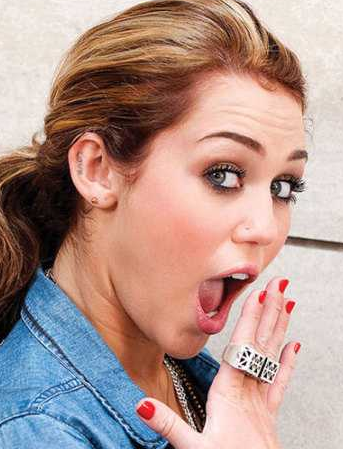 This tattoo is inspired by her belief that you don't have to pay attention to the negativity in the world and only pay attention to what those people who love or care about you tell you . So Miley's tattoo would be a kind of personal charm.
3. Tattoos on Miley Cyrus's Fingers: heart, cross, peace sign, "Karma", equal sign, evil eye, "bad", tongue, triangle, alien and watermelon.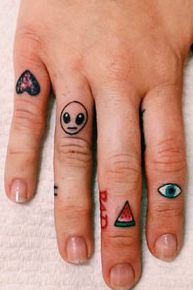 The equal sign means "All love is equal", a show of support for the rights of homosexuals and the LGBT community.
And the small tattoo of peace sign is located on the side of her middle finger, and represents the characteristic peace symbol of the 70s. The meaning of this tattoo is clear.
4. Tattoos on Miley Cyrus's Wrists, Arms and Forearms: anchor, "Om" symbol, sentence "Love Never Dies", Roman numeral, Theodore Roosevelt quote, crossed arrows, curved tooth bone, grandmother portrait, moon, "Love Yer Brain", Wükong, cat, Yoshimi, Da Vinci heart drawing.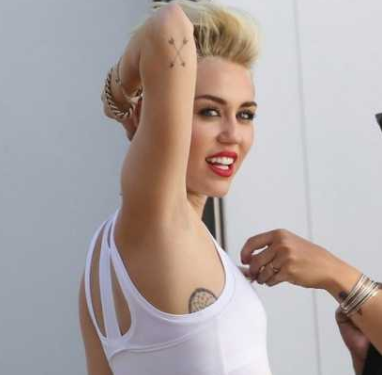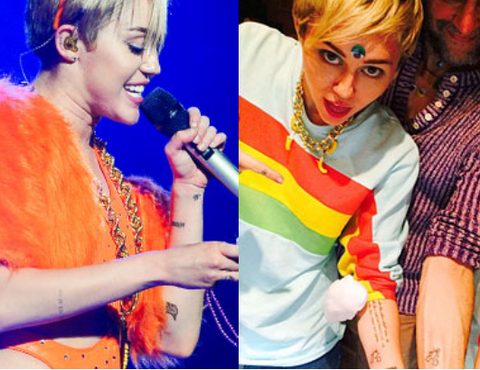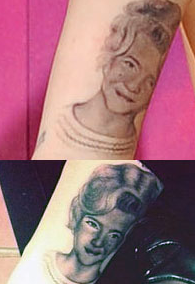 Miley got a tattoo with the Hindu "Om" symbol that symbolizes the universe. She got it done a couple of months after the karma tattoo and it shows the growing interest of the artist in oriental culture and its concepts.
In November 2013 Miley showed the world the latest addition to her body art gallery, a detailed tattoo of the portrait of her grandmother, Loretta Finley.
5. Tattoos on Miley Cyrus's Feet: sugar skull, and "Rolling $tone".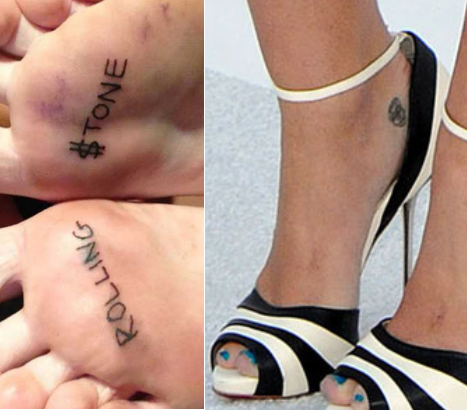 During this last period Miley Cyrus has been cultivating a bad girl image and has proven to be quite rebellious.
And it is a small candy skull with two shinbones that looks on one of her ankles, the most remarkable thing about this tattoo is that it unites it with the one who was her partner for a time, Liam Hemsworth, since Liam wears an exactly the same tattoo on her ankle. Like many lovers, Miley and Liam decided to get a tattoo just as it would unite them.
6. Tattoo on Miley Cyrus's Inner Lip: crying yellow cat emoji.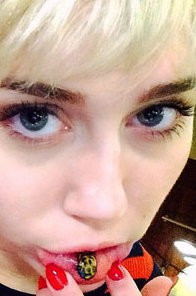 Don't you want to be as fashionable as Miley Cyrus? Come and get some inktells' tattoo stickers which are similar to stars!
---