Something About Tattooed Freckles
It might seem like a coincidence, but at the same time as Prince Harry's royal wedding with American actress Meghan Markle, the new freckle craze has broken out! Tattooed or drawn, it seems that it is now an ever-growing phenomenon. Is it possible that many have been inspired by the beautiful freckles that the woman always shows with ease and pride?
In recent years we have been witnessing a continuous birth of very "original" fashions but which in the end have had the time they find! In fact, given the ease with which they were replaced, new ones have always come out, but today's one is really out of the ordinary: drawn or tattooed freckles! Among the various stars who show them with ease, we find the actress  Meghan Markle, even before her Royal wedding, had never hidden them. Her former make-up artist, Lydia Sellers, states how several times she had been warned by the  star, not to cover the freckles with excessive make-up.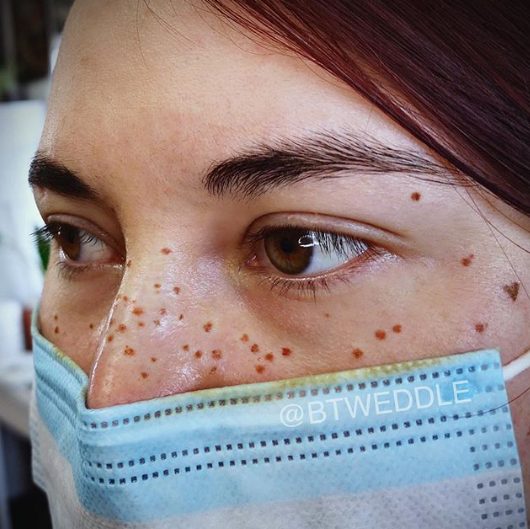 @btweddle via Instagram
Why Have Tattooed Freckles Become a Must-Have Fashion?
In fact, if in recent years those who owned them had always tried to hide them with lotions and make-up to escape possible derision. But today, no! Indeed they seem to have been rediscovered as one of the strengths of the face! Several make-up artists, including Michele Magnani senior make-up artist for Mac cosmetics, affirm how they manage to rejuvenate a face. This thanks to the natural malice and youthful impudence they give you! One of the first to be captured and exploited the wave of the moment was a tattoo artist from Atlanta, Gabrielle Rainbow. Initially she tried the "freckles tattoo" technique on herself and then decided to offer it as a service. Actually, the young woman claims that after a couple of months from the treatment, the effect is remarkably natural and a session of only one hour is enough!
Technique for Tattooed Freckles
As for the technique with which they are tattooed, it is very similar to the semi-permanent makeup of the eyebrows microblading: very fine pigments are injected, in this case there are more than 15 shades, inside the epidermis through the use of small needles. Immediately after their execution, they are embossed and of an artificial color! In fact it will take at least one / two months before obtaining a natural result! But there is a difference compared to the semi-permanent make-up of the eyebrows in which certain areas where the hair is less thick are saturated: in fact this technique, called freckling, acts directly on the bare skin, recreating the ephelids whose existence was not foreseen by mother nature! If, on the other hand, you already have some freckles but you want to intensify their effect, you can always go to specialized studies. In this case the result will be a "thickening" of the same!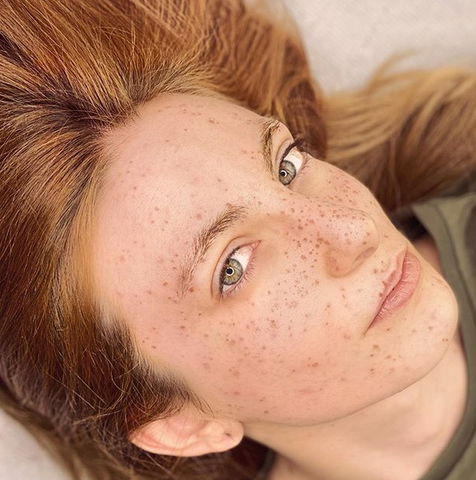 @tattooed_freckles via Instagram
Where Do You Go to Get Tattooed Freckles?
To undergo a session, you can go to makeup studios specializing in semi-permanent makeup, or different tattoo studios offer it as a service! Furthermore, the care to be followed after their execution is very important. In fact, as for real tattoos, we must be careful to protect them from aggressive agents such as UV rays, smog etc.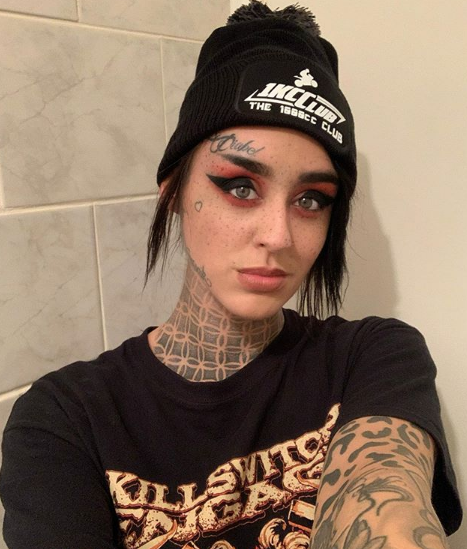 @ema_mariie via Instagram
Tips for Tattooed Freckles
Pay attention to the choice of color and the size that you will want to obtain on the face. There are different shades and sizes and positioned in different places on the face or directly over its entire extension. It all depends a lot on the colors of the face! This is why we recommend that you first experiment with pencils to actually see where you want to go and with which color!
Create Fake Freckle by Yourself
For those who do not want to undergo an invasive treatment, or want to see the possible result before going to the session? Don't worry, you can use various tricks for the reproduction of freckles! In fact, there are various tutorials that teach how to make a set of ephelids: all through the use of pencils for eyes and eyebrows, with a semi-rigid tip and various tones ranging from brown to red! In America, where this phenomenon is depopulating, a pencil has been formulated directly. The  Freckle Pencil is suitable exclusively for their realization. Thanks to its particularly pigmented formula which manages to make a final effect more natural than the use of classic eye and eyebrows!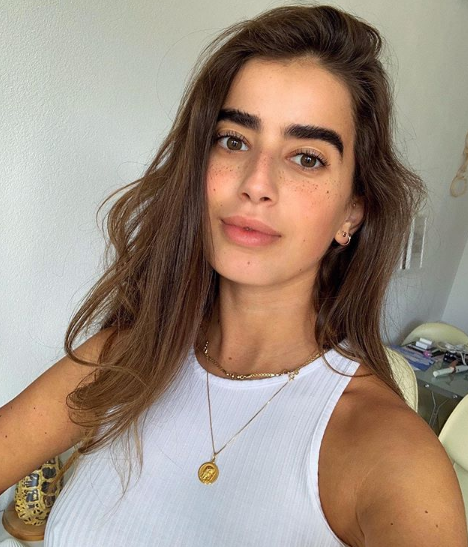 @brunabear via Instagram
Patch for Fake Freckles
An original initiative was put in place by a young American,  Remi Brixton,  who added her project to the Kickstarter Crownfounding platform. She has in fact created patches capable of creating a very natural effect and whose application is extremely easy and immediate! Furthermore, the duration is up to two days and their daily use creates a natural effect that can last up to 4/6 weeks!  
If any of you have tried this new technique both as a performer and as a client, let us know your experience! Is it worth it?  On the other hand, if you want to cover your scars, you should try some inktell's tattoo stickers that are awesome and artisitical.
---