Matching Best Friend Friendship Tattoo Design Ideas for Men and Women
Best friend tattoos are a very popular and fun way to show the world your relationship with your close friends. There are dozens of ways to symbolize friendship but nothing beats matching friend tattoos, which show everyone that your friendship is meant to last forever.
If you and your friend live practically glued to each other, you've probably already thought about getting a tattoo together. Maybe you both already have something special on your mind, but you might need a little inspiration before you get started. Some of the friendship tattoos are matching while others are made in contrast or are two parts of a whole. Maybe you can try go through some friendship tattoo stickers in inktells' online store with you friend before you really get one permanent tattoo.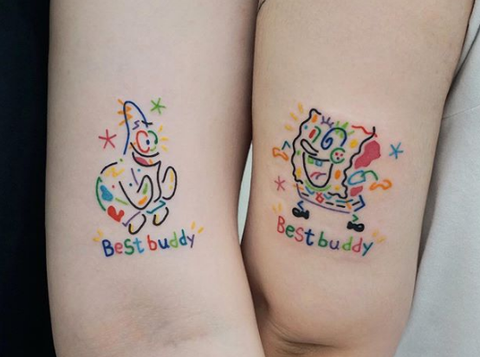 @chanyecolors via Instagram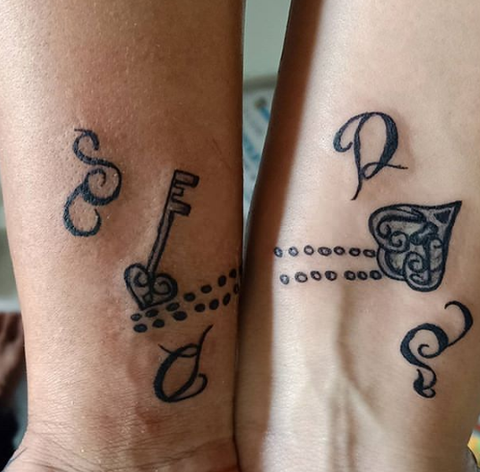 @akshay_salve_25 via Instagram
Meaning of

T

attoo Designs of

B

est

F

riends
Many friends are looking for ways to show the friendship and share with other people. One of the best ways to do this is to use a type of tattoo that will be seen by everyone. Getting a joint tattoo together is a great way to seal your friendship permanently. Even though many people want to get matching tattoos with their spouse, there are many more good reasons to get a tattoo with a friend.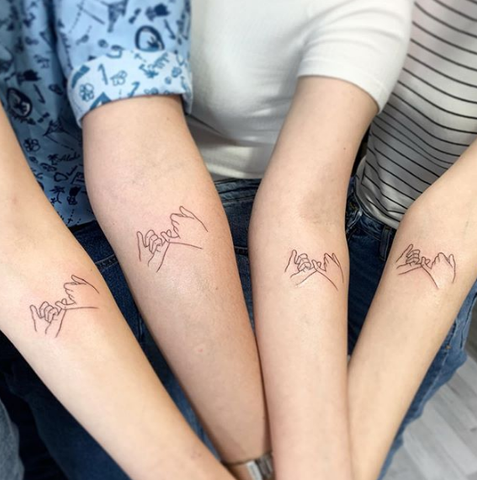 @cuongle.tattoo via Instagram
Many best friend tattoos only work when you are in the same room, next to each other. Since a best friend tattoo isn't complete without the other half, it lets even a stranger realize your friendship when you're together.
Ideal Positions for Friendship Tattoo Designs
There are a lot of areas on your body that you can place your best friend tattoos on. These tattoos will be engraved on the wrists of each person, on the back of the hands, the chest, the ankles, the fingers, the shoulders, the back, along the spine, on the feet or on the neck. Make sure that your best friend places their tattoo in the same place as yours, so the essence of your friendship will be complete.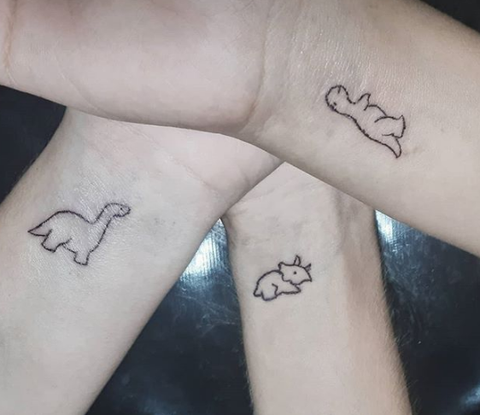 @jaguadartte via Instagram
The arms and wrists are the most popular places to place a best friend tattoo, as they are easy to see and will constantly remind you of your friend (s). The possibilities are endless: someone's favorite image, a meaningful phrase, a monogram, etc. The concept of separating the tattoo into two parts is pretty awesome because when you put your two hands together it will be complete.
The chest is the place closest to your heart. And since you love your best friend very much, this will be one of the best places to place your tattoo. Your best friend tattoo will look awesome on your chest.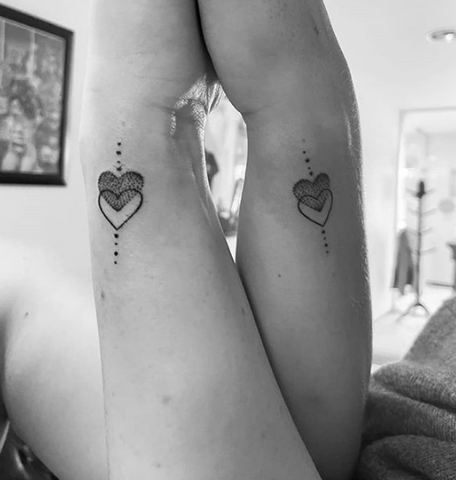 @michelle.ducaert via Instagram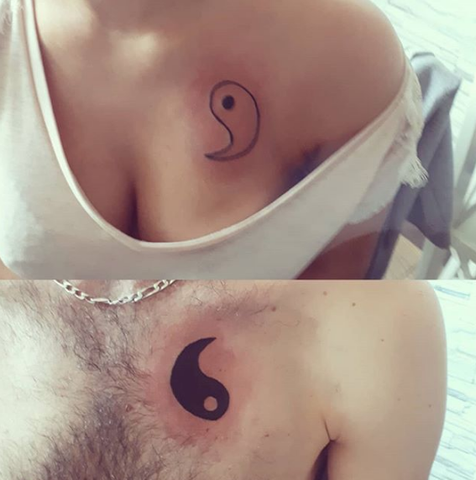 @ntc.tattoo via Instagram
Types of Best Friend Tattoo Design Ideas
1. Friendship Tattoo Design Idea of Disney Princess for Best Friends
If you and your friend are both girls, and both are more interested in animated characters, perhaps a fan of Disney, you can try tattooing the portrait of a Disney princess. Cartoon tattoo designs do not look sexy, but show youthfulness, loveliness and vitality.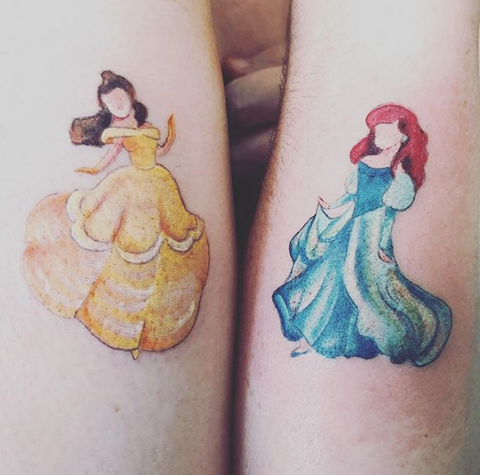 @tarathomas18 via Instagram
2. Friendship Word Tattoo Design Idea for Best Friends
You can place an additional design on any word you want, or even small figures representing the word. You can also choose to tattoo half of the word on one person and the rest on the other. By bringing these two halves together, you build a complete piece of work that will signal to the rest of the world that you are the best friends in the world.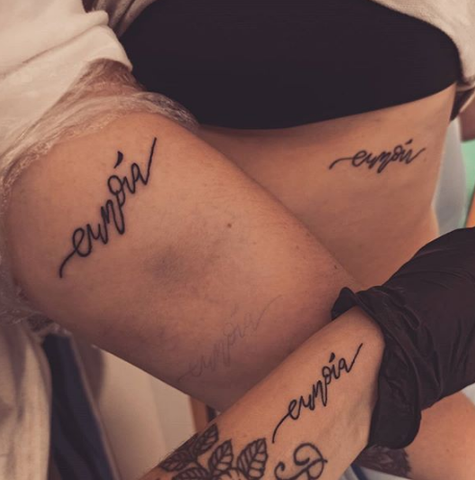 @ravbarnina via Instagram
3. Friendship Heart Tattoo Design Idea for Best Friends
Hearts are very popular images for best friend tattoos. Some friends get matching hearts that sometimes include quotes full of friendship. A heart printed on the ankles or wrists is a good option for these tattoos.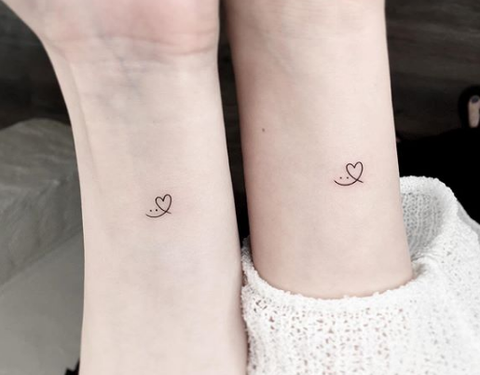 @nieun_tat2 via Instagram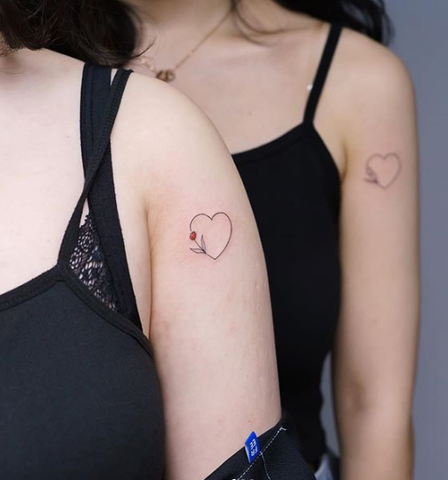 @no.16____ via Instagram
4. Friendship Celtic Knot Tattoo Design Idea for Best Friends
The Celtic knot symbolizes eternity, infinite loyalty, love and friendship. It is also known as the mystical knot or the infinite knot. If you take a look at these beautiful knots, you won't be able to see where they start and where they end, which is a reminder of the eternal nature of our minds.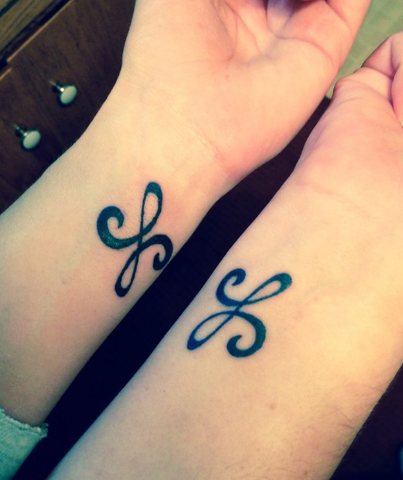 @Janell Stultz via Pinterest
Preparation

T

ips

B

efore Getting Friendship

Tattoos
Today it looks like everyone has something tattooed on their body. Some of these friendship tattoos are small in size but others cover an entire limb or even the entire body. But before you embark on the joint tattoo adventure together, there are a lot of things you need to know. To be able to understand what you are going to undertake, here are some tips that you might find useful:
Find a good tattoo artist who is part of a recognized organization, so you can be sure that you are well informed on the best way to get a tattoo. Visit a studio where someone you know has had a friendship tattoo, so you can be 100% sure that they are trustworthy. Also make sure that the artist uses disinfected needles to make the tattoo for you and your friend(s). If he uses dirty or non-disinfected needles, you risk getting an infection or disease. Once you've found the right studio, meet with the tattoo artist to talk about the tattoo you want to get.
@nancygomeztattoo via Instagram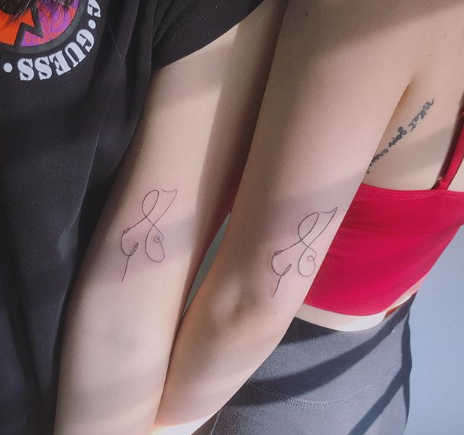 @inkbykelv via Instagram
Go with your best friend, so you can share the experience and their presence will help you calm down. Sometimes it's best to go get a tattoo with someone who's been there before because they can guide you through the entire process.
You should both go to the tattoo artist before and talk about the design. Bring it with you or have it printed. If it's a clean creation, sketch it out. Don't pick a design that you might later regret. Pick something that has personal meaning to each of you or something that you and your friend(s) think is awesome.
@imfine_tat_ via Instagram
Wear suitable clothing. If you're wearing a dress to your date and want to get a tattoo on your lower back, you'll need to take it off before the job can get done. You and your friend(s) should wear something that allows easy access to the part of the body you want to tattoo. Always put on loose clothing or old clothes after getting a tattoo and do not wear socks or closed-toe shoes if you have just had a friendship tattoo on your foot, it may irritate the area. A freshly printed tattoo needs to be exposed to the air to heal properly and to look good.
If you still have no idea what kind of pattern to tattoo with your friends, why not trying some inktell's tattoo stickers?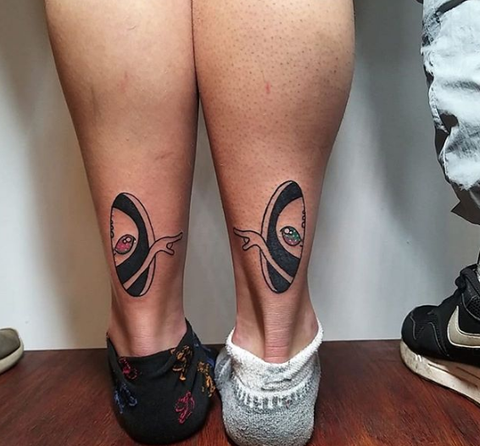 @thesouthernrebellion via Instagram
---