15 Best Dragon Tattoo Design Ideas for Men and Women in 2020
The word Dragon is derived from a Greek word literally meaning "great serpent" and "one who sees clearly", just like the Latin word draconem (great serpent). The creature exists in many cultures around the world, from mythologies of Europe and the Middle East to Asian stories.
In European culture, dragons were seen as evil creatures to be defeated by noble knights. There are many stories about legends of dragon slayers and snake slayers like those of Beowulf, Archangel St. Michael and Tristan. The dragon appears in Judaic and Christian cultures in the form of a serpent, and killing a dragon is often interpreted as defeating Satan.
Dragons are intrinsically linked to Asian culture. The meaning of each image varies depending on the elements that are incorporated into the design. The dragon is a water animal which usually symbolizes the subconscious and mediation. It is also a symbol of masculinity, strength and power, and it represents the primary forces of nature and the universe.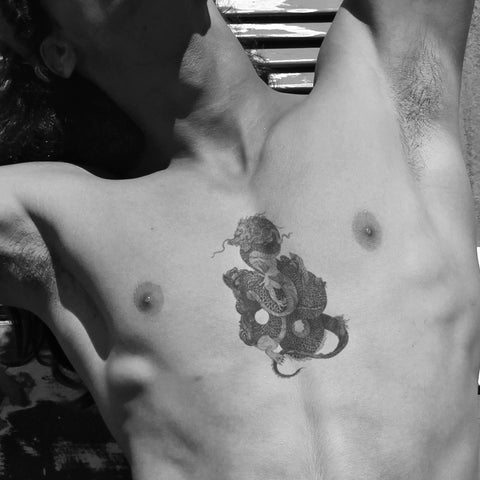 @Artist Luke Gray of inktells
Meanings of Dragon Tattoo Designs for Men and Women
Dragon tattoos represent a large number of qualities and characteristics: wisdom; longevity; life expectancy; strength and power; tranquility; mediation and the subconscious; spirituality; creation and destruction; dragons created life with fire and destroyed it with ice, poison or fire; the master of natural elements - fire, water, air (he flies) and earth (he lives in caves); masculinity; prosperity; sexual desire and passion
Types of Dragon Tattoo Design Ideas for Men and Women
1. Japanese Dragon Tattoo Design Idea for Men and Women
The dragon is one of the most revered creatures (mythical or real) in Asian culture. These designs often symbolize wisdom, strength, power, longevity, prosperity, and luck. Asian dragons resemble snakes making their way through existence and lack the bat wings often seen in images of European dragons. In Japanese culture and that of different eastern regions, dragons are water creatures and are seen as good omens.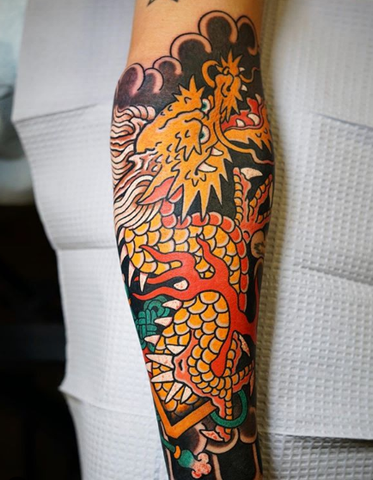 @paulnycz via Instagram
2. Chinese Dragon Yin Yang Tattoo Design Idea for Men and Women
In Chinese culture, the dragon represents Yang and the phoenix represents Yin. The yang symbolizes the masculine, passionate and indomitable forces like the sun (the white half), while the Yin is the more calm and rational part, which corresponds to the moon (black half).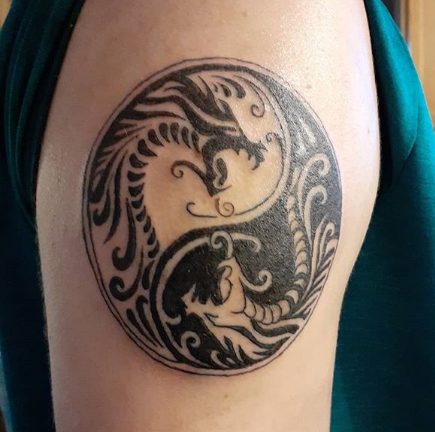 @inkbybabalon via Instagram
3. Ouroboros Dragon Tattoo Design Idea for Men and Women
The ouroboros is an ancient symbol first appearing in an ancient Egyptian funerary text found in Tutankhamun's tomb. It is also known as a "dragon-circle tattoo" and represents the cycle of life, which sometimes destroys itself by renewing itself. People who wear this design usually identify with the cycle of birth and death and may have suffered tragic loss at some point in their life.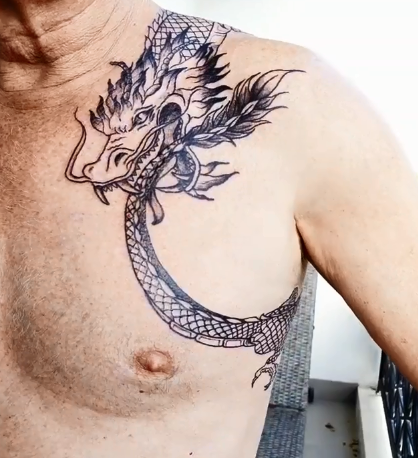 @notpopstudio via Instagram
GET MORE TATTOO DESIGNS FROM INKTELLS
4. Dragon Claw Tattoo Design Idea for Men and Women
The dragon claw represents destruction and conquest over the evil one. It is a sign of power and fearlessness carried by people who see themselves as strong, dominant and unwavering in the face of hardship.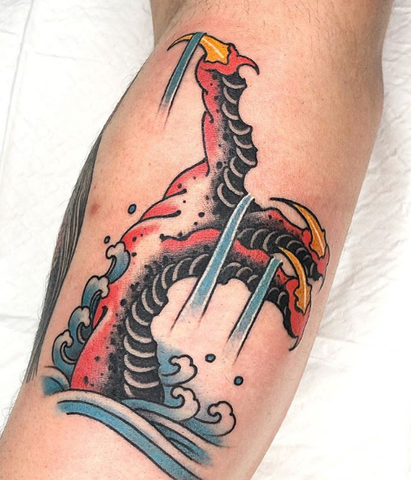 @habbytattoo via Instagram
5. Sleeping Dragon Tattoo Design Idea for Men and Women
The sleeping dragon represents the strength and power that lie dormant within us, ready to wake up when the time comes.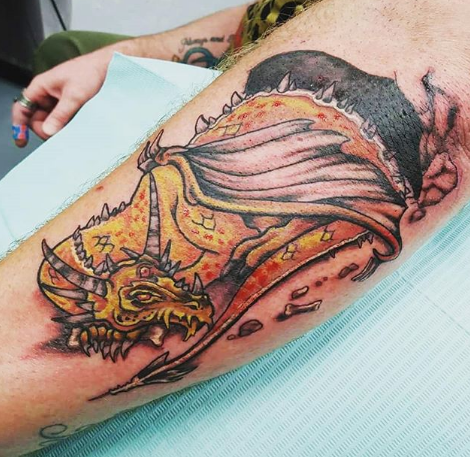 @mutinytattoopiercingandmore via Instagram
6. Gothic Dragon Tattoo Design Idea for Men and Women
Gothic dragon tattoos symbolize the power, strength and primary instincts of the human species.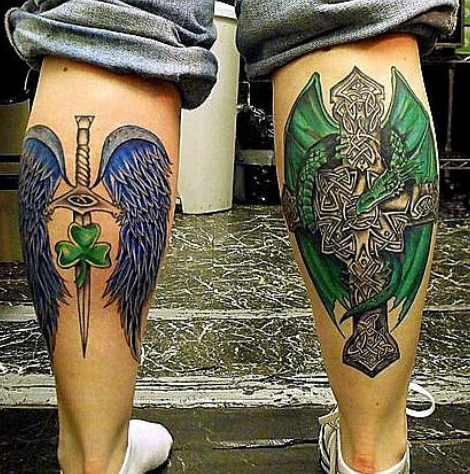 @theredparlourtattoo via Instagram
7. Snake and Dragon Tattoo Design Idea for Men and Women
Many images of dragons and snakes show them as deadly enemies, although they are intrinsically linked at the level of mythology and origins. There are, however, several differences between them: snakes are associated with healing and the god of medicine, Asclepius, while dragons are led by the primary forces of nature and the natural elements In a certain sense, tattoos of dragons and snakes represent the conflict between science and superstition, modernity and tradition.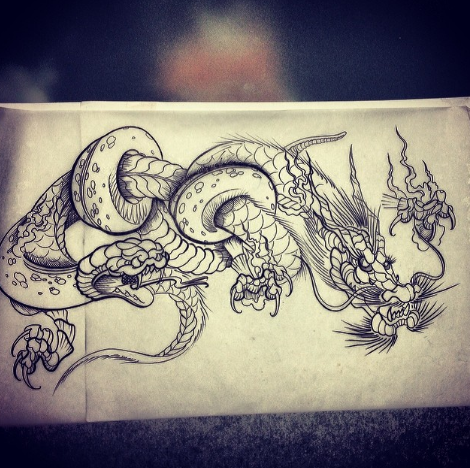 @tyweedtattoo via Instagram
8. Dragon Fairy Tattoo Design Idea for Girls
A dragon is a symbol of nature: it lives in dark caves (earth) or lakes (water) and breathes fire. Dragons tend to be masculine and powerful elements, while fairies are delicate, feminine, and strong. Fairy dragon tattoos represent the contradictory and complementary forces of the male and female elements in nature.
@outerdarknessstudio via Instagram
9. Butterfly and Dragon Tattoo Design Idea for Men and Women
The dragon represents male power and strength. While the butterfly symbolizes female beauty and innocence; it is a symbol of the weaker sex. Wearing this tattoo design means that the wearer identifies with how the two forces balance and complement each other.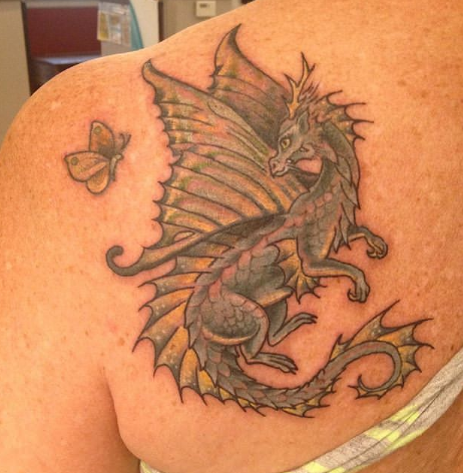 @coastlinetattoo via Instagram
10. Tiger and Dragon Tattoo Design Idea for Men and Women
In Chinese culture, the tiger and the dragon are deadly enemies often depicted in combat. And, while both are elements of nature, passion, strength, and power, they have different ways of interacting with primary forces. The dragon is a being of wisdom who focuses on understanding the foundations of the world, while the tiger is based on brute force.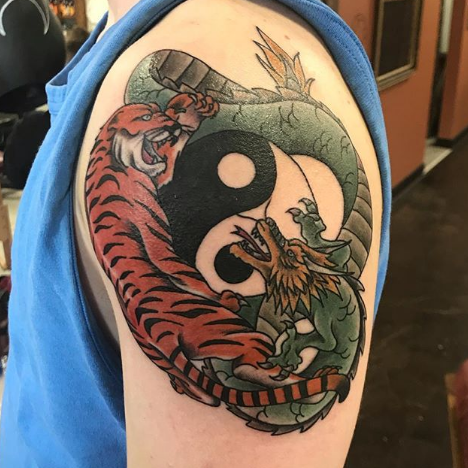 @deadredbird via Instagram
11. Koi Dragon Tattoo Design Idea for Men and Women
The elements of this tattoo are strongly connected to the East and, in particular, to Japan. The Koi Carp are brave, strong and able to face the most dangerous situations without the slightest sign of fear. According to Chinese culture, if a Koi carp manages to swim upstream and up the impressive Dragon Gate Falls (on the Yellow River), it turns into a dragon. Koi dragon tattoos represent ambition and progress made through hard work, as Koi carp become beings of power after taking up the challenge.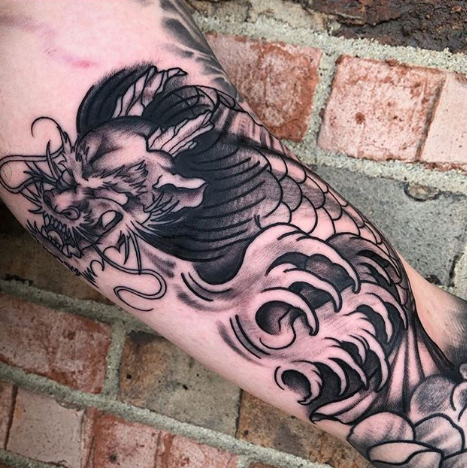 @lsbtattoos via Instagram
12. Moon and Dragon Tattoo Design Idea for Men and Women
The moon is strongly related to water, both in legends and in reality (because it is the moon that influences the tides of the oceans). It represents the ebb and flow of life, while dragons symbolize the primary forces of nature. Since both are symbols of water, dragon and moon tattoos represent the relationship between nature and the subconscious (water is associated with meditation and deep thoughts).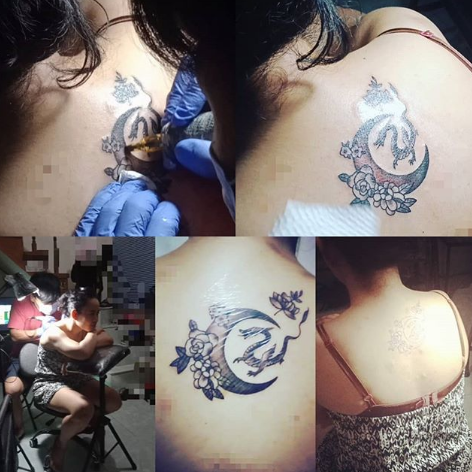 @austkenj via Instagram
13. Fire-Breathing Dragon Tattoo Design Idea for Men and Women
Fire is a symbol of creation (the phoenix rises from its ashes) and destruction, and in many legends dragons have the ability to do both of these things. In these tattoo designs, they represent passion, sexual desire and power. However, in Asian culture, the dragon is a water creature. This is why a tattoo bringing together these two elements can also represent the balance between raw emotions and mental tranquility.
@christinejones1000 via Instagram
14. Flower and Dragon Tattoo Design Idea for Men and Women
Snapdragon, also called dragon or dragon flower in some languages such as Spanish or English, is a delicate plant with mysterious origins. Some artists represent these tattoos by simply drawing the flower itself or by creating a combination between a dragon and any flower. Dragon flower tattoos usually signify grace and disappointment, illusion. Of course, the type and color of the flower changes the overall meaning of the tattoo.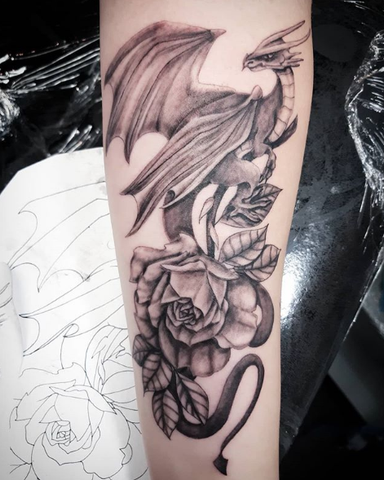 @artbybreab via Instagram
YOU WILL ALSO LIKE:
→Top Tattoos Inspired by Movies for Men and Women in 2020
→Great Whole Leg Tattoo Design Ideas for Men and Women in 2020
→Noble King Crown Tattoo Design Ideas for Men and Women in 2020
→Gorgeous Stomach Tattoo Design Ideas for Men and Women
---