Spectacular Hand Tattoo Designs for Men and Women
This area of the body is one of the most risky, no wonder those who tattoo their hands, who are independent, confident and wanting to break schemes, we give you ideas for one of these tattoos.
Tattoos on the hands have a fundamental characteristic ... that they are very visible), this was obvious ... But they are also fascinating small pieces that most of the artists of needles and tattoo lovers have a weakness. The knuckles, the palms or the back, also the fingers although that is more specific, what we are dealing with here is the hands as a whole. This is an area that is very attractive when done well and there are real specialists among the most skilled tattoo artists, in working this specific area.
Today we have athletes who wear tattoos on hands, we have filmmakers, actors, businessmen, models, and also of course many middle-class citizens. The fascination that hands have for tattoo artists is precise because of this legend, tattooing their hands was a gesture of rebellion and nonconformity, and for this reason after the inmates the tattoos on the hands were mainly seen in artists.
@homestyletattoo via Instagram
@i_am_baby_king via Instagram
@jack_ankersen via Instagram
@jack_ankersen via Instagram
@jack_ankersen via Instagram
@lil_tat_mama via Instagram
@lukeaashley via Instagram
@pe.tattooist via Instagram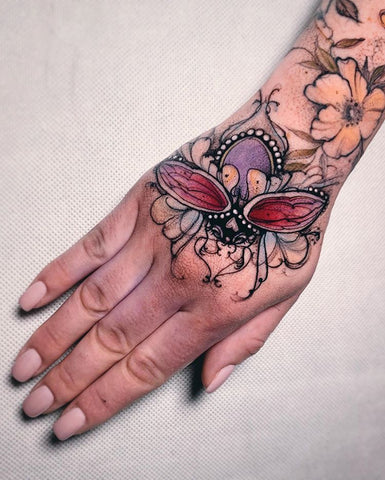 @pliszkamagdalena via Instagram
@tatuagemartefeminina via Instagram
---