Best Colorful Jewelry Tattoos for Girls in 2020
The jewels are a detail of great value, which sometimes has to do something sentimental. Whoever gives a jewel wants to treat another person with something that will last forever and that is important and of great value. That is why jewelry is considered valuable and of great beauty. That is why there are also interesting tattoos that are inspired by jewelry to create an original and elegant drawing.
We are going to see some incredible jewel tattoos that stand out sometimes for their color and sometimes for the multitude of details they have. This motif is usually chosen by women, since jewelry is usually a feminine complement, and we can see tattoos in all kinds of tones.
The dark blue tones can be really nice and flashy for a tattoo, which tend to emphasize the blacks. These jewel tattoos have those cool tones that are very elegant and sophisticated, with a certain gothic touch that gives it some mystery. If you like dark tones for the tattoo, feel free to give the jewel some depth and relief with shades of blue as in these tattoos. To create that diamond effect with edges and corners, different shades of blue are used, so that they offer the appearance of a jewel to which the light shines in all its corners. It is like having a tattoo in three dimensions.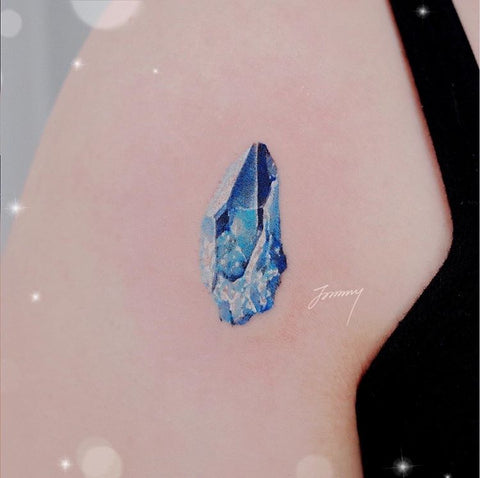 @tattooist_jammy.j via Instagram
The pink colors are widely used in jewelry and feminine tattoos. In this case we see a mixture with black arabesque details and the jewels forming a pink heart. The fact that it is a heart also has to do with the pink tones that are used in tattoos.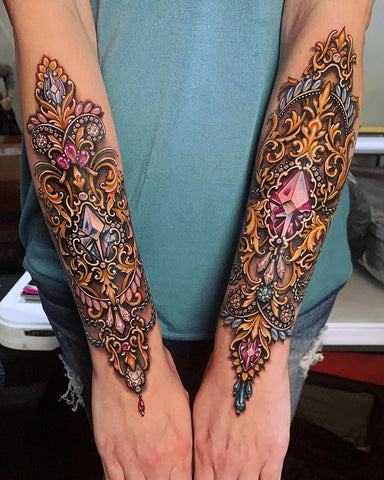 @ryanashleymalarkey via Instagram
The tattoos black ink can be a good choice to create this jewel effect. In this case, it is about tattoos that use many details, from lace to pendant jewelry and bracelet type pendants. These tattoos are very decorative and are often used on the legs, the back or even the neckline. They are very symmetrical and that is why they are used a lot.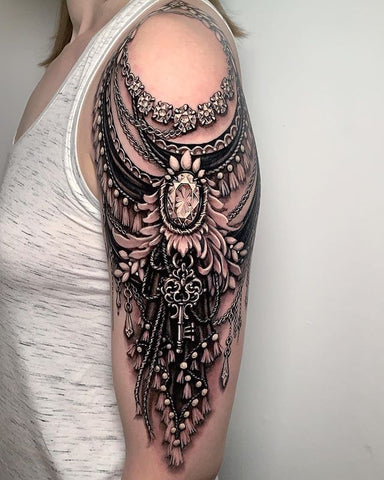 @ryanashleymalarkey via Instagram
It is possible to tattoo only one jewel, with all those reliefs and tones. But there are those who go a little further and also add decorative details around it to give it an even more luxurious and perfect touch. These tattoos mix those symmetries that we see in mandalas with jewels, for a totally decorative effect.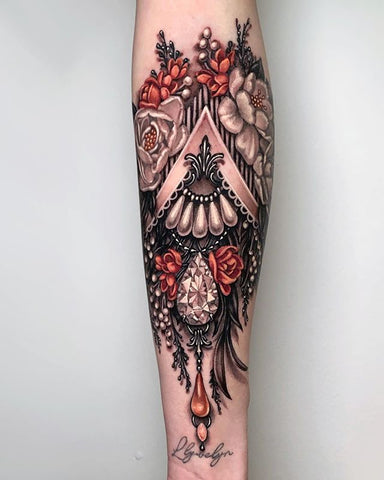 @ryanashleymalarkey via Instagram
YOU WILL ALSO LIKE:
→Noble King Crown Tattoo Design Ideas for Men and Women in 2020
→Fine Thigh Tattoo Design Ideas for Men and Women
→Matching Best Friend Friendship Tattoo Design Ideas for Men and Women
---