15 Marine Tattoo Design Ideas for Men and Women in 2020
Introduction of Marine Tattoo Designs
Do you love the sea, the beach and the ocean and have decided that the best tattoo for you is the marine-themed one? You are surely looking for inspiration for a nautical spirit marine tattoo design.
Today we review the different symbols of the marine tattoo design style, one of the most popular to date. This kind of tattoo is characterized by elements that obviously refer to the marine world such as boats, anchors, compasses, mermaids and other ocean creatures. They are usually seen depicted in an old school marine tattoo design style with rich colors and a vintage feel.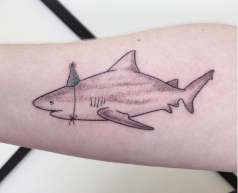 Marine tattoo design of @abracazebra via Instagram
A Little Story of Marine Tattoo Designs
Tattooing reappeared in Europe at the end of the 18th century thanks to sailors and navigators who traveled the world and discovered other cultures. Superstitious, sailors mainly tattooed themselves for reassurance and protection from bad things. They also tattooed their entire backs with religious representations to avoid getting whipped in case of punishment since it was a crime to damage a pious figure. It was a little later that the first marine tattoos appeared as we now know them as the good old anchor and the pin-up mermaid.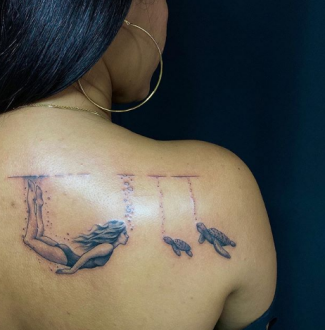 Marine tattoo design of @shadow_inks via Instagram
Go to Sea With a Sailor Tattoo
What belongs to the ocean is a sailor, and the relationship between the sailor and marine tattoo design is worth mentioning. Indeed, the history of tattoos is closely related to sailors. Navigators such as James Cook contributed to the appearance of tattoos on the Old World through their exploration of the South Pacific. The explorers of the past brought back memories that were forever engraved in their bodies from their journeys. Other sailors reproduced the patterns they had observed on people of their kind, contributed to the deep compilation of the marine tattoo design. And quickly assimilated its reputation with violence and barbarism.
Marine tattoo design of @paulintattooartist via Instagram
Since then, marine tattoos have become popular on water and on land. After conquering the old-fashioned tattoo, he got rid of the in lock of birth. Today, the marine tattoo is no longer reserved for the French National Navy and other members of the Royal Navy: its seduction, through the mind, the perseverance and evolutionary power of men and women from all continents.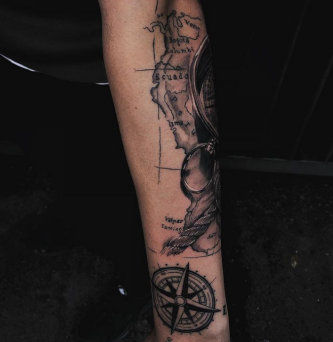 Marine tattoo design of @indaco_tattoo via Instagram
We know: for centuries, the sea has been a source of inspiration for tattoo artists and for those who navigate the oceans. Back in the day, some marine tattoo designs were among the most used and easy to recognize. In Europe, sailors often wore marine tattoo designs inspired by the open sea or by their cultures. It is believed today that this fashion was started by the first sailors to cross the Pacific Ocean. It is they, it is said, who transported the art of tattooing to their countries of origin. So if you are a sailor or living by the sea, you will be interested in the following marine tattoo designs.
Nautical tattoos have never ceased to be in fashion ever since. This is probably because there has existed, at all times in our history, a fascinating link between man and the sea. We have selected for you about twenty images on the theme of marine tattoo ideas. They are to be browsed just below!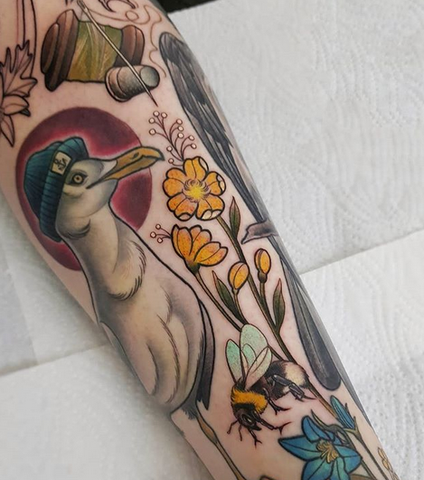 Marine tattoo design of @anastasiarice via Instagram
→Fragile Cherry Blossom Tattoo Design Ideas for Men and Women
→Best Soundwave Tattoo Design Ideas for Men and Women
Different Types of Marine Tattoo Design Ideas for Men and Women
-Marine Tattoo Design: The Captain's Message
As just said, the sailor tattoo is often depicted in an old school style. It is clearly found in this one thanks to the design and the colors without forgetting the banner reminding that a captain, a real one, never leaves his ship!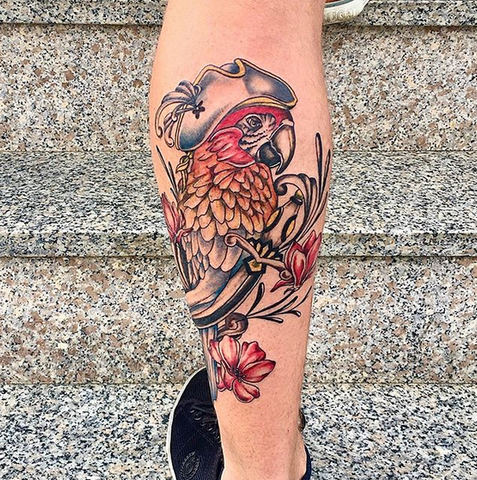 Marine tattoo design of @nad.ihn via Instagram
-Marine Tattoo Design: The Marine Compass
Because sailors are too strong, they catch good fish, and they don't need anything… except a good beer and a compass! In the end, the compass was to the sailor what the Minitel was to a geek. It can represent the sign of a wish or a taste for adventure, but also a course.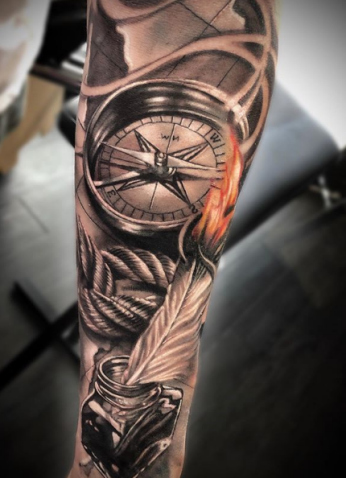 Marine tattoo design of @vonotattooartist via Instagram
-Marine Tattoo Design: The Breton Lighthouse
The lighthouse is a building used to prevent boats from running aground along the coast. It is therefore entirely part of this marine universe and has the advantage of being long and thin, which can be ideal when looking for an idea to dress your forearm.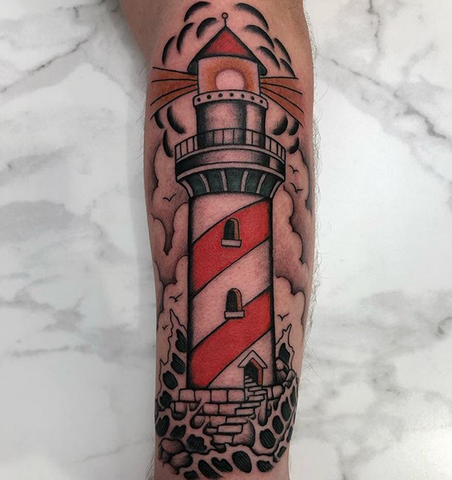 Marine tattoo design of @colbywhite_rlt via Instagram
-Marine Tattoo Design: The Pirate's Treasure
Before being beautiful, the marine style is above all a world filled with stories, myths and legends. Little, we have all already tried to find the treasure in our garden or in the forest next door where the white lady lived. On your body, it can represent ambition, mystery, or just a treasure.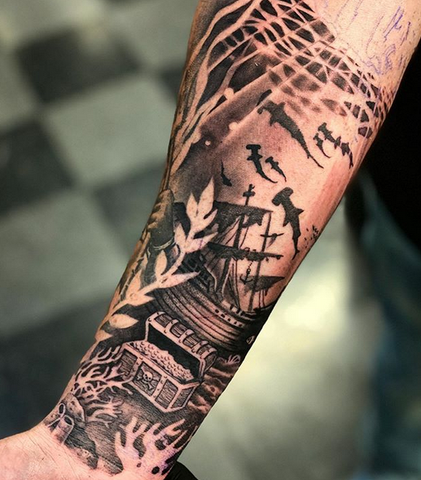 Marine tattoo design of @mg.tatts via Instagram
-Marine Tattoo Design: The Commander's Bar
The captain must be attentive behind his helm (a log to steer such a big boat is not very reassuring when you think about it), so she is something very precious in his eyes. In terms of tattooing, we like its very visual geometric side which could be applied to almost all the tattooable parts of the body.
-Marine Tattoo Design: The Fanciful Whale
Among all sea creatures, whether real or not, the whale remains one of the most impressive in size. It represents the power of the sea, seeing the abundance of food among the Maori.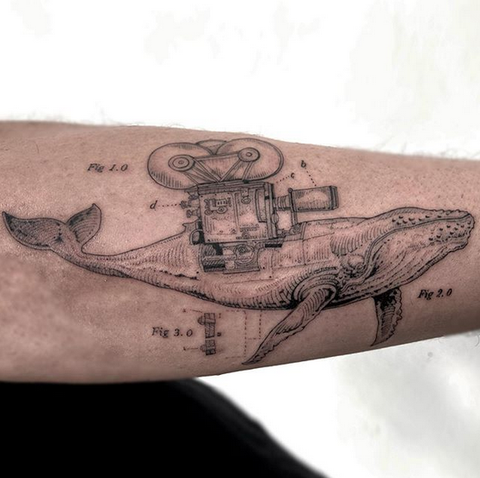 Marine tattoo design of @christianpoire via Instagram
MORE ARTICLES:
→FASCINATING WATERCOLOR TATTOOS YOU WOULD GET TODAY
→Best Phoenix Tattoo Design Ideas
→Best Manta Ray and Penguin Tattoo Design Ideas
-Marine Tattoo Design: The Old School Boat
The boat is the sailor's vehicle, his purpose and the apple of his eye. On your skin, it will symbolize your passion for travel and a certain taste for adventure.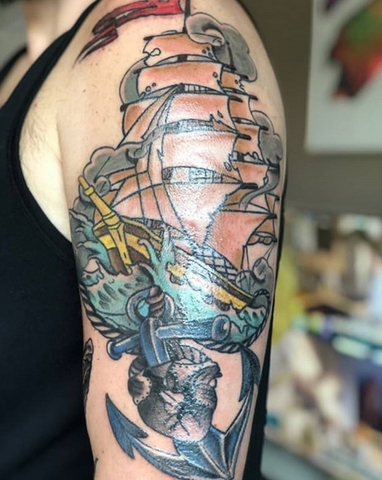 Marine tattoo design of @sindysoftneedles via Instagram
-Marine Tattoo Design: The Pin-Up Mermaid
Traditionally, mermaids were depicted with bare breasts. But faced with a modern society where nudity has become taboo (but also with the help of Walt Disney), they have been given clothes or long hair. It symbolizes the desire of man, unconsciousness, temptation but also fertility or love.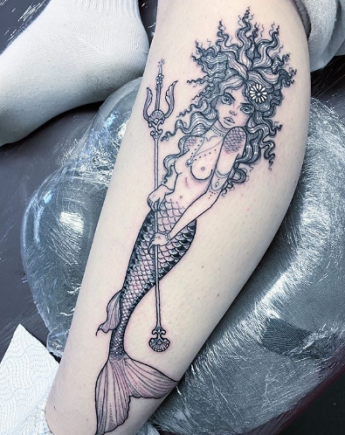 Marine tattoo design of @foxx.teeth_ via Instagram
-Marine Tattoo Design: Anchor
One of the oldest types of tattoos in history. Formerly, it would have represented a concealed cross that the early Christians carried in order to express their faith while concealing it from the Greeks. It also has a great place in the world of the sea and its meanings are multiple. It could mean an experienced sailor, but also safety, hope, salvation and hope.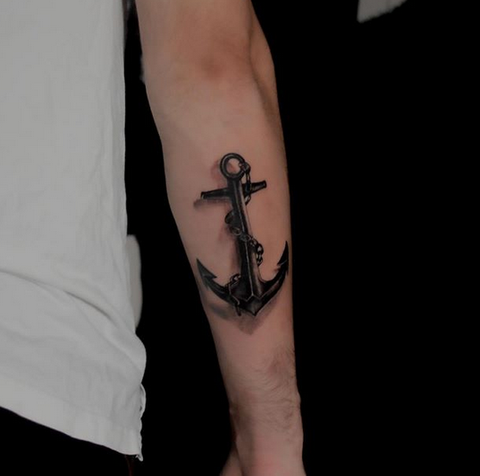 Marine tattoo design of @gtattoos87 via Instagram
-Marine Tattoo Design: The Old Sea Dogs
Whether it is Commander Cousteau or Captain Haddock, an old sea dog with 1001 stories to tell us. Even if they are not always true and a bit exaggerated, we listen anyway and we let ourselves be carried away. For what it will represent, everything depends on the type of sailor you want to get tattooed.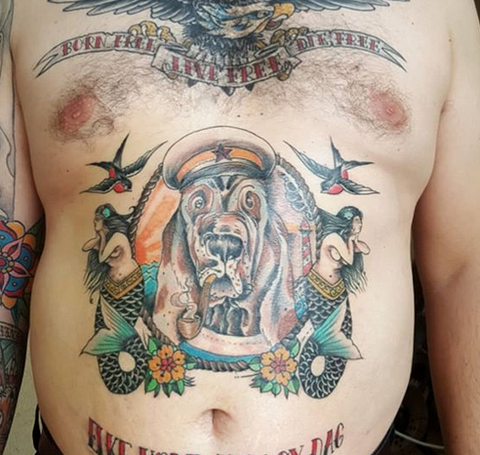 Marine tattoo design of @capetowntattoo via Instagram
-Marine Tattoo Design: The New Age Octopus
This eight-armed cephalopod has inspired many legends including that of the Kraken, a giant Scandinavian creature that attacks ships and devours the crew on board. It represents creation with its multiple tentacles. But also intelligence, grace and the power of nature.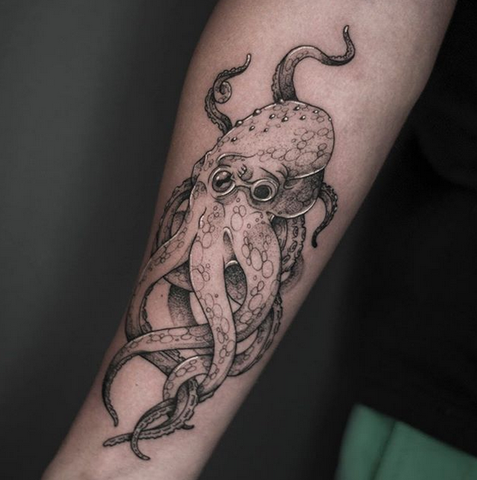 Marine tattoo design of @polillatattoo via Instagram
---