Best Pocket Watch Tattoo Design Ideas for Men and Women
Introduction of Pocket Watch Tattoos
In the 17th and 19th centuries, the object most used by men of high society was the pocket watch. A small watch attached to a gold or silver chain, which always went into the waistcoat pocket. We consulted her regularly and she was very practical, always on time. 
Today, some people continue to use this type of watch for their tattoos. These objects make it possible to create a small and simple piece of body art without any exaggeration. All tastes exist in the world of tattoos but this pattern differs from the usual designs. 
@victoriaparisiart via Instagram
Generally, ladies' watches are hung on the chest, with a diameter of about 3cm. Pocket watches are also called pocket watches. In the past, European gentlemen always carried them in the pockets of suits and vests, and the bracelet was attached to the second or third buttonhole.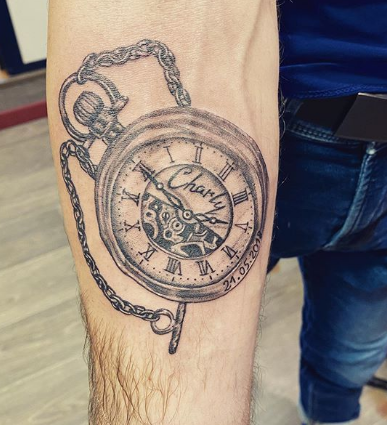 @lolotattoo.sav via Instagram
GET SOME TATTOO DESIGNS:
→Aquanaut and Dinosaur Skeleton
→Skeleton With Octopus Tentacles
The Symbolism of Pocket Watch Tattoos
The significance of this watch is linked to the time which passes inexorably and without stopping and which has a close relationship with the past, the present and the approaching future. The pocket watch is an ancient object closely linked to history and which transports us to the Victorian era.
It is a symbol of distinction and elegance that can designate a certain social class, depending on whether it is gold or silver. Some of these watches designated the caste to which their owner belonged, when they were personalized. This is why they often characterized people of high lineage or of good birth.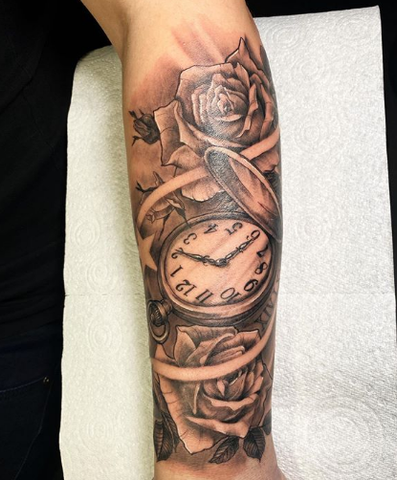 @simonbaldwintattooart via Instagram
The pocket watch can be combined with other elements that change its meaning:
1.Pocket Watch Tattoo Design Idea for Men and Women: Pocket Watch With a Skull
The skull, associated with the pocket watch, represents death which is inexorably approaching us.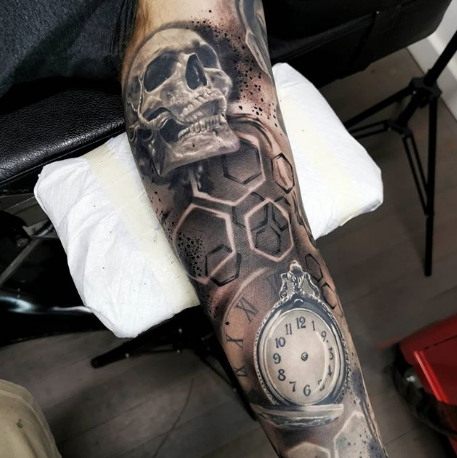 @tattoos_bynick via Instagram
2.Pocket Watch Tattoo Design Idea for Men and Women: Pocket Watch With Flowers
Contrary to what one might think, the flowers associated with this object are a sign of eternal spring, youth and the rebirth of life. If they are faded, they are also a symbol of death.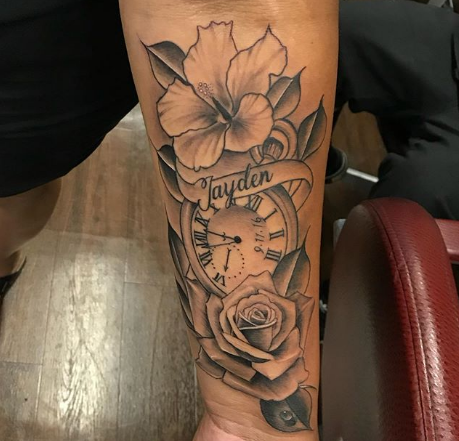 @ramm_tattoos via Instagram
MORE DESIGNS:
3.Pocket Watch Tattoo Design Idea for Men and Women: Pocket Watch With a

 

P

erson

'

s Portrait
If it is a human being who wears the watch, it represents the measurement of time, the act of trying to control it.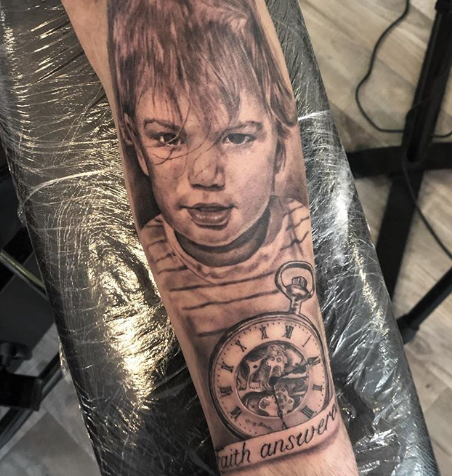 @king.arthur.j via Instagram
Pocket Watch Tattoo Design Ideas and Suggestions
If you like the theme of death, you can have the parquet drawn to you ostensibly wearing an elegant pocket watch. Or represent it with wings and a skull, to evoke the message: "am I approaching heaven or hell?
You can also pay tribute to someone who has passed away and write that person's name on the watch cover. If you want to get a couple tattoo for yourself, you can each have a watch tattoo with each other's first name on it.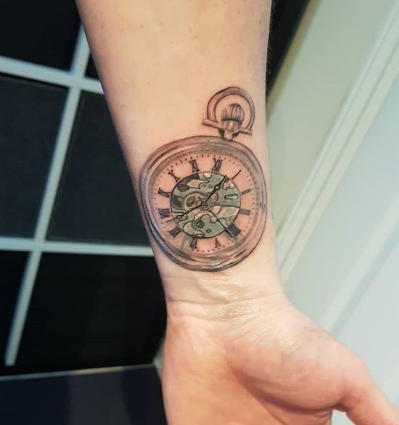 @tokto_kripi via Instagram
→Top Universe and Alien Tattoo Design Idea for Men and Women
→Coolest Scorpion Tattoo Design Ideas for Men
Pocket Watch Tattoos: Material of Pocket Watch
Pocket watches have a wide variety of materials and exquisite styles and patterns: pearls; pocket watches inlaid with pearls; pocket watches inlaid with pearls; silver; gold; agate; enamel; inlaid with rubies; inlaid with sapphires; cases made of copper.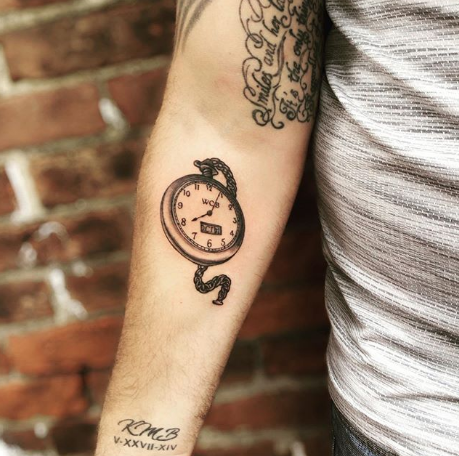 @bfromlp13 via Instagram
What Does a Pocket Watch Tattoo Mean
-Pocket Watch Tattoo Meaning: Family or Valentine
European classic mechanical pocket watch is one of the must-haves for gentlemen. Its surface is generally covered with a watch cover to protect it. The traditional European custom is to paste the portrait of one's loved ones on the inside of the watch cover-in modern times, portraits have gradually been replaced by photos. Some ladies' small box-shaped pendants also have the same design as pocket watches. They are meant to be intimate. "If you want to know who the lover of a certain European gentleman is, the easiest way is to take a peek at his pocket watch."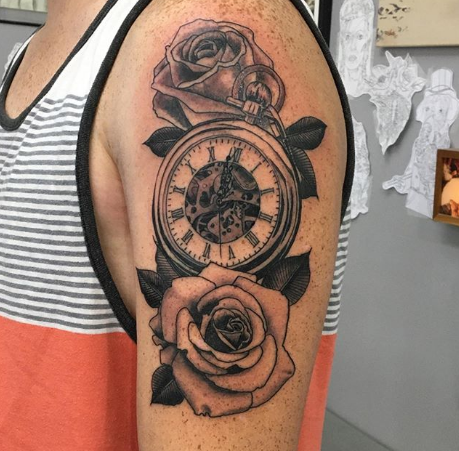 @noalox via Instagram
-Pocket Watch Tattoo Meaning: Social Status
Pocket Watch vividly describes the image of a pocket watch. In fact, the structure of a pocket watch and a clock are exactly the same. It is driven by a spring made of a coil spring, thereby getting rid of the pendulum and entering people's pockets with a small "body shape". At that time, European men's clothing was the traditional three-piece suit-shirt, suit vest, and dress. The celebrity gentlemen of the upper class are dressed in this suit, and the pocket watch fits the standard "package" of the upper-class society, and together serves as a status symbol.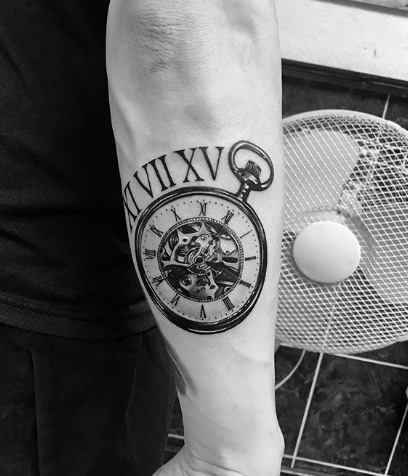 @robromane via Instagram
-Pocket Watch Tattoo Meaning: Giving a Pocket Watch As a Gift
If you send a pocket watch between the male and female objects, it means to put the other party in your heart;
If you send pocket watches between men and women, it means you have a good impression of each other.
Many people think that sending a watch is the same as sending it to the end. In fact, a watch or clock can only be given to older people. Watches have the meaning of a clock, but this clock means to love and beloved in return, which means you like it. It is more appropriate to give a lover, and the pocket watch is usually placed in the arms, and the eccentricity is closer!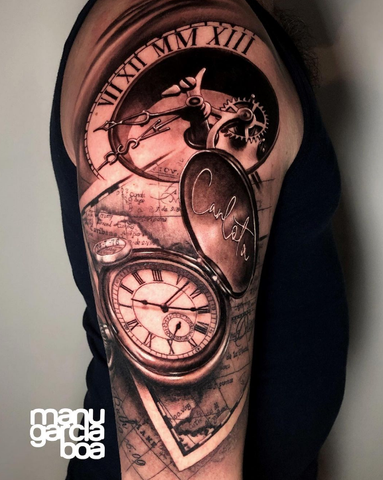 @manugarciaboa_tattoo via Instagram
-Pocket Watch Tattoo Meaning: Pocket Watches for a Man
Watches have always been an important item to show men's personality. Many fashionable men have several watches suitable for different occasions, including casual models, formal models, and sports models. However, in recent years, pocket watches have gradually gained the favor of men. In addition to men's tie, perhaps a delicate watch can best show the charm of men. Recently, more and more fashion people have used pocket watches as gifts for mature men.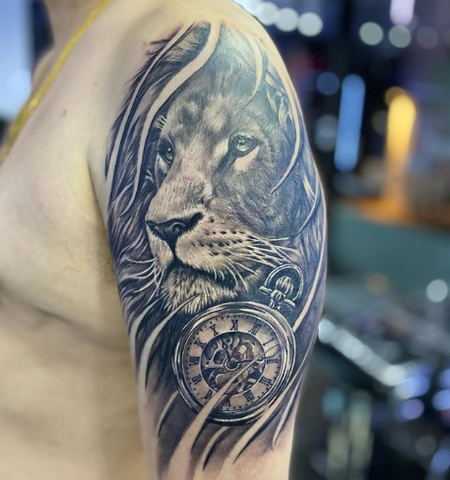 @good_morink via Instagram
Pocket Watch Tattoo Meaning: What is the Difference Between a Pocket Watch and a Watch
A pocket watch is a watch worn on the chest and in the arms. There is a chain on the watch end that can be fixed to the body, which is a pocket clock in the pocket of a suit vest. The watch is worn on the wrist.
The pocket watch has only one chain fixed, but there are wrist straps on both sides of the watch.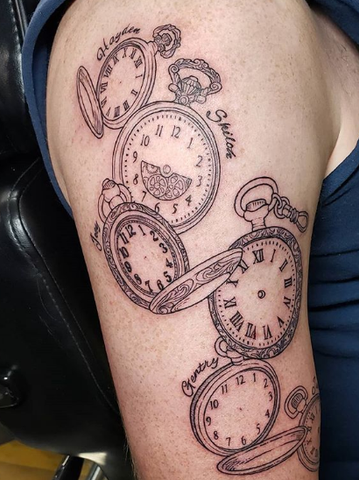 @cbriggstattoo via Instagram
MORE ARTICLES:
→Right Angel Tattoo Design Ideas for Men and Women
→Noble King Crown Tattoo Design Ideas for Men and Women
---