Top Rabbit Tattoo Design Ideas With Meaning
Today, I am going to show you something about rabbit tattoos. Whether you are looking for inspiration for your tattoo or you just want to know the meaning of rabbit tattoos, this is the right article for you. You would love the ideas of rabbit tattoo designs in the following parts:
Introduction of Rabbit Tattoos
Rabbit Symbol
Meaning of Rabbit Tattoos
The Most Important Things About Rabbit Tattoos
Rabbit Tattoo Design Ideas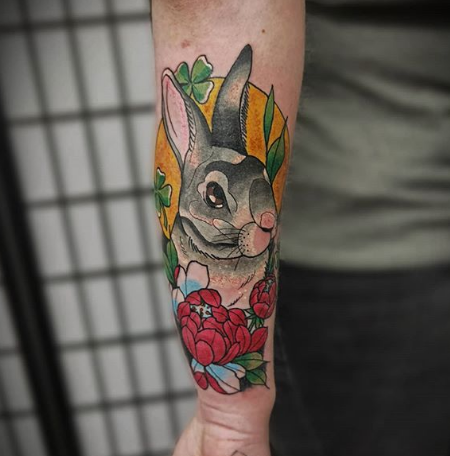 Rabbit tattoo design of codyeaglestattoo via Instagram
Introduction of Rabbit Tattoos
In many cultures, the rabbit is a moon animal and a symbol of virility and fertility. In Anglo-Saxon mythology, the goddess Ostara often appears as a white rabbit. She is said to lay colorful eggs which were then given to village children during the annual festivities celebrating the arrival of spring in ancient Britain. Therefore, some British get their rabbit tattoo due to this meaning.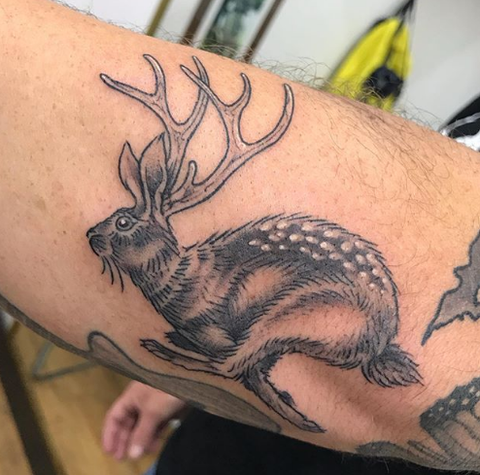 Rabbit tattoo design of el_woffo via Instagram
In Christian tradition, rabbit paws are symbols of prosperity and good luck. This was not the case in the beginning. When Christianity began to take hold and supplant the pagan religions of Europe, early Christians often demonized pagan symbols, such as the rabbit. And you can see many Christians with rabbit tattoos. It can be compared to a massive public relations campaign aimed at securing the dominance and power of this religion over others.
At that time, seeing a rabbit was like seeing a black cat cross your path and the animal was often associated with demonic witches. To ward off the spell, a certain type of hunter had to somehow kill a rabbit matching a certain description. The rabbit's foot was then separated from the rest and kept as an amulet. A black rabbit tattoo could be a good choice for you too.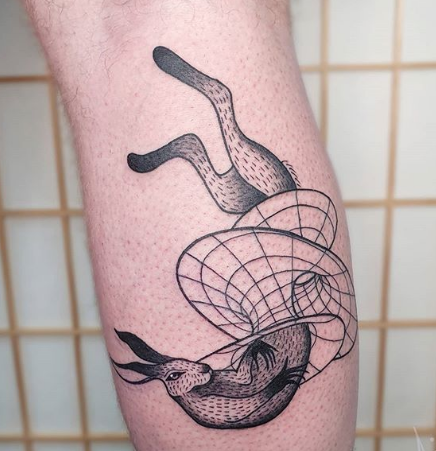 Rabbit tattoo design of amaa.nitaa via Instagram
Rabbit Symbol
The rabbit cult has flourished for millennia in cultures around the world.
The ancient Egyptians saw the rabbit as a creature with a deep understanding of the mysteries of life. The rabbit was a fleet-footed messenger of Hermes, and was also considered the sacred animal of Aphrodite and Eros, the Greek deities of love. The ancient peoples of Mexico saw the tracks of a space rabbit on the moon. And a moon and rabbit tattoo design could look very cute.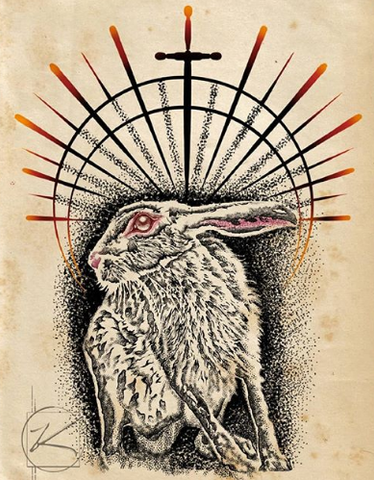 Rabbit tattoo design of kris.spadetattoo via Instagram
In  Indian mythology, the rabbit was considered one of the most intelligent and discerning animals, much smarter than an owl, alligator or bear. In  China, rabbits are considered a symbol of longevity and procreation. The white rabbit is divine and immortal, the red rabbit brings good luck, and the black rabbit rhymes with success in life. You can get your rabbit tattoo design in the color you want.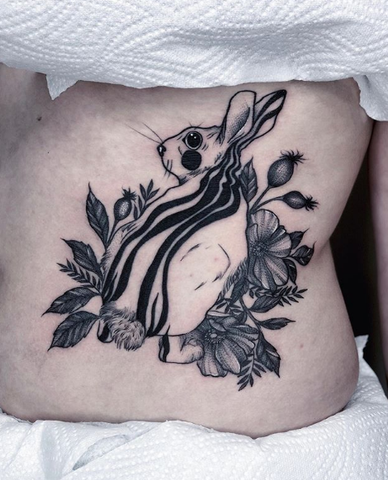 Rabbit tattoo design of miluj.ink via Instagram
Meaning of Rabbit Tattoos
Over the centuries, rabbit tattoo designs have been used to represent a number of characteristics, including:
Fertility and virility
Intelligence and cunning
Spirituality and Paganism
A deep connection with nature
Chastity and purity (only for white rabbits)
The fact of being in search of knowledge
The moon and the lunar cycles
Luck and prosperity
The wealth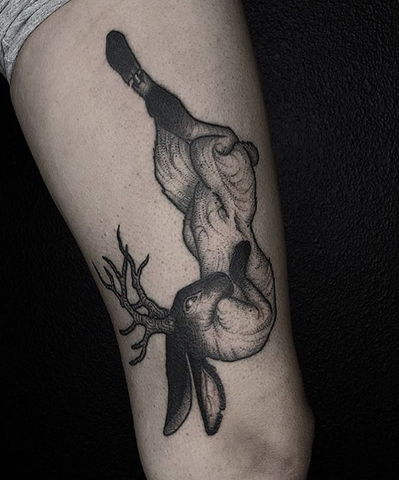 Rabbit tattoo design of psycha.ink via Instagram
→Special Owl Tattoo Design Ideas You Would Like
The rabbit tattoo is often chosen by women who dream of having many children and a happy family. A tattoo can become an amulet that helps this dream come true.
Family values. It is known that female rabbits are very sensitive to their offspring. They surround little rabbits with attention and care. The meaning of a rabbit tattoo often boils down to the fact that its owner believes that children are the most important thing in life.
The rabbit is considered a symbol of Easter, for Christians this is the brightest holiday, therefore, in this context, the fluffy animal is considered the embodiment of piety. To the greatest extent, this meaning refers to the white rabbit tattoo, because white is considered a symbol of innocence and purity.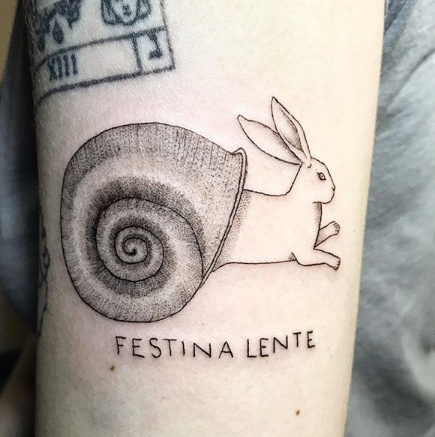 Rabbit tattoo design of jocelynj via Instagram
Due to the fact that rabbits prefer to resolve any conflicts through flight, it is believed that they are very cowardly. The perception of fear as a vice is one-sided. In fact, survival is impossible without fear; it is a defense mechanism, thanks to which any living creature receives a signal that it needs to be saved from danger. Therefore, the fact that rabbits, at any hint of a threat, begin to flee as quickly as possible, should be taken as vigilance and caution. The person who has chosen such a rabbit tattoo may have these qualities himself, and they have helped him more than once in life.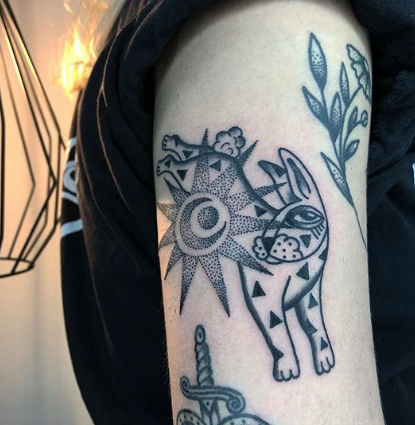 Rabbit tattoo design of petarda_tattoo via Instagram
The Most Important Things About Rabbit Tattoos
Often, at the sight of a spectacular and bright tattoo, there is a desire to go to the salon and fill yourself with something original and newfangled. Recently, rabbit tattoo designs have become very popular. These incredibly adorable and cute creatures are increasingly used not only as pets, but also as images for tattoos.
-Idea Locations for Rabbit Tattoos
Neck
Back, shoulder blade
Shoulders and elbows
Wrist
Hips and abdomen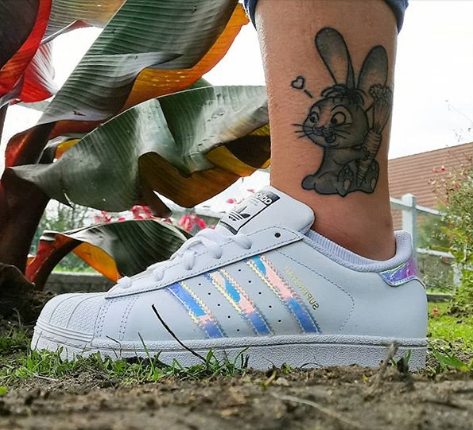 Rabbit tattoo design of coxycindy via Instagram
→Cute Small Animal Tattoo Design Ideas for Men and Women
-Features
Rabbit tattoos, unlike other animals, are often depicted in an alternative style. The associative perception of this animal was influenced by the previously popular Disney cartoons. Tattoos depicting cartoon characters do not carry any semantic meaning, they only serve as a reminder of something funny and funny.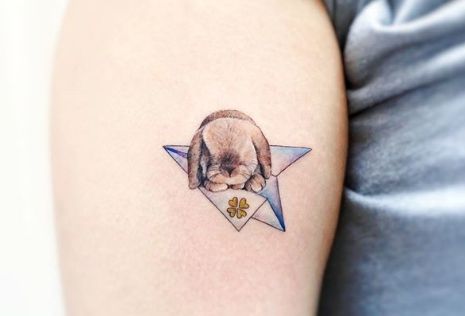 Rabbit tattoo design of penguins_tattoo via Instagram
Rabbit Tattoo Design Ideas
The rabbit is one of those animals that have become heroes of numerous fairy tales and cartoons. Therefore, tattoos depicting these animals often imply a specific character with all its characteristics, character traits and history. Perhaps the most common March rabbit from Alice in Wonderland. He is usually portrayed in a jacket or with a cup of tea, with crazy eyes. A rabbit tattoo with a clock is another option for working with this character. Bucks Bunny and Roger Rabbit are no less popular, tattoos with which they look pretty funny.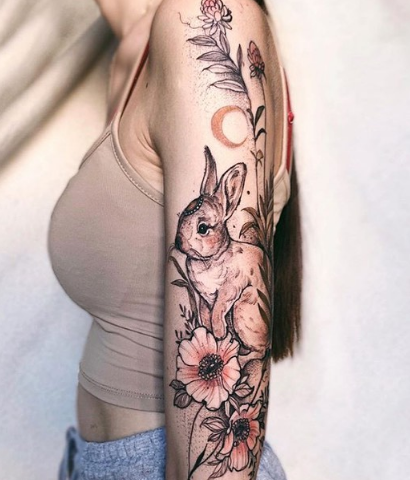 Rabbit tattoo design of voice_of_ink_tattoo via Instagram
The most popular designs of rabbit tattoos are:
-Rabbit Tattoo Design Idea of Playboy Bunny
Hugh Hefner did not choose this badge for his Playboy empire by accident. In human history, rabbits have often been associated with fertility, virility and sex, especially in the Anglo-Saxon tradition. They have a reputation for being hot little creatures and the wild abandon with which they breed made many people in the old world believe that sex drives rabbits crazy. It is therefore quite surprising that a white rabbit is a symbol of purity and chastity. And still, playboy bunny could be a cute rabbit tattoo design.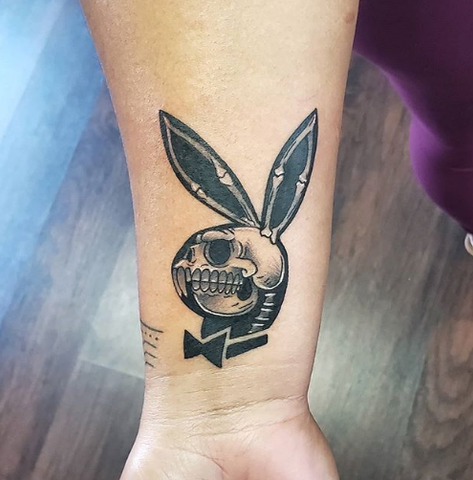 Rabbit tattoo design of ashmoretattoos86 via Instagram
MORE ARTICLES:
→Unique Arrow Tattoo Design  Ideas for Men and Women
→Elegant Butterfly Tattoo Design Ideas for Girls
→Cute Tiny Tattoo Design Ideas for Girls or Men
-Cute Cartoon Rabbit Tattoo Design Idea
This cartoon and geometric rabbit tattoo was designed with Shiryudoh style. The brown tone colors are really beautiful.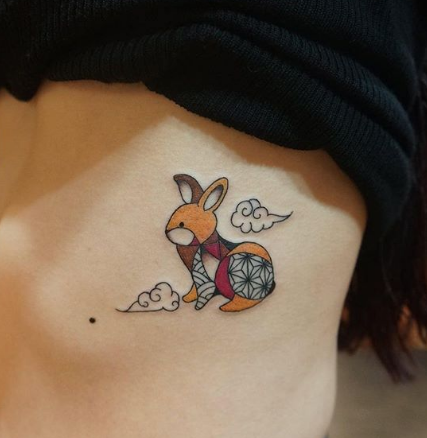 Rabbit tattoo design of shiryudoh via Instagram
-Rabbit Tattoo Design Idea of Bugs Bunny
Bugs Bunny is the main character in the cartoon "Bugs Bunny". He is agile and alert, lively and cheerful, but sometimes he likes to cause trouble, but it is very simple for him to defeat the enemy. After numerous hardships, he will dig holes for long-distance travel, but often takes the wrong path. A rabbit tattoo of it could be cute and express your love for this classic work.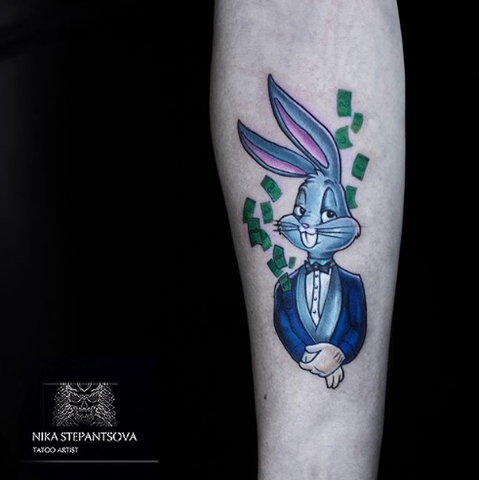 Rabbit tattoo design of nikastepantsova_tattoo via Instagram
-3D Rabbit Tattoo Design Idea
A 3D rabbit tattoo on the arm will be perfect. If you raise your forearm, it would be like a real bunny in your arm.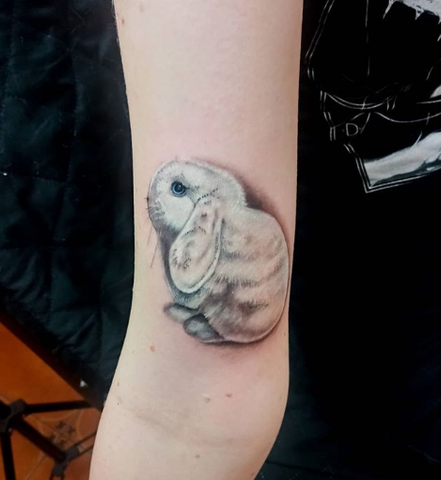 Rabbit tattoo design of amasituwa via Instagram
---