Awesome Semicolon Tattoo Design Ideas for Men and Women
Semicolon tattoos have become very popular due to their recent association with hope. While previously most people only saw those who wore this kind of tattoo as grammar or language geeks, the meaning of the image is now far removed from this interpretation. Today, the semicolon tattoo has become a symbol of optimism, survival and help. With such meanings, it's no wonder people are interested in this punctuation mark. And you can find many tattoo designs of this kind on inktells' online store.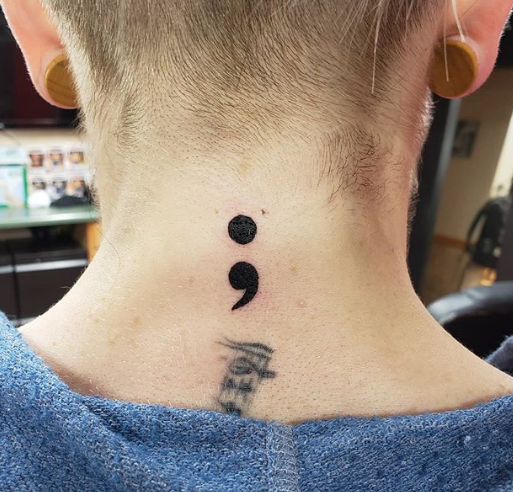 @sydneywhetman via Instagram
Types of

Semicolon T

attoo

 Design Idea

s

 for Girls
There are many kinds of semicolon tattoos. We have separated them for you into two main types of tattoo designs: simple semicolon tattoo designs and decorated semicolon tattoo designs.
1. Simple Semicolon Drawing Tattoo Design for Girls
The simple drawing of a semicolon is exactly what the name suggests: a semicolon. This semicolon tattoo is not suitable for everyone, as some might find it very devoid of ornamentation. Those who do get this type of tattoo, however, are generally quite satisfied with the sheer strength of this lonely brand. They want all attention to be on the symbol. Sometimes they don't want this semicolon tattoo design to be especially noticed either. Embellishments are a way to give emphasis to the main design and in this way a semicolon can almost turn into an exclamation point. The simplicity of the drawing makes it possible to draw attention only to its sole meaning.
This can be a good option if you want to get a semicolon tattoo to show your solidarity with those who advocate its message of hope and continuation, without wishing to sport an overly visible symbol. It can also be an ideal choice if you are just a low key or straightforward person when it comes to affiliations and tributes. However, the simple semicolon tattoo design can be done in any color, which means you can choose an intense color to add extra visibility to the symbol.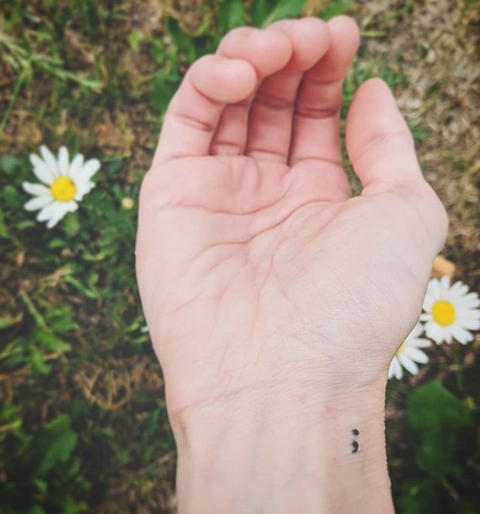 @christinetraveler via Instagram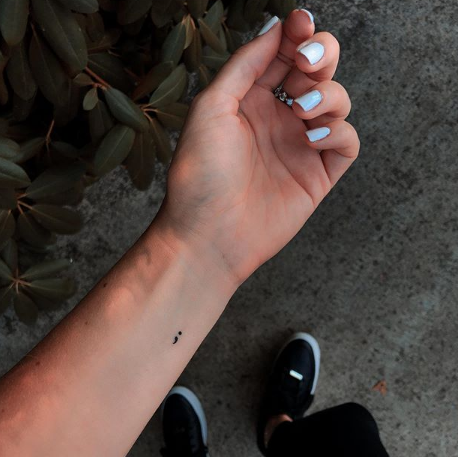 @madisonxmeyer via Instagram
2. More Ornate Tattoo Design for Girls
This type of drawing is used more and more today. Decorated semicolon tattoos come in different shapes and styles. All they have in common is the semicolon in the drawing. The latter can be incorporated into a lot of decorations or art pieces: people often use it to represent the body of a butterfly, for example, and adorn the punctuation mark with butterfly wings.
Tattoo designs decorated with a semicolon can also be made by simply printing the shape of the semicolon, then using colors or patterns to fill in the spaces between the lines. Any type of pattern combines well with a semicolon tattoo design, so don't be surprised to see some very colorful or eye-catching examples once you start looking around.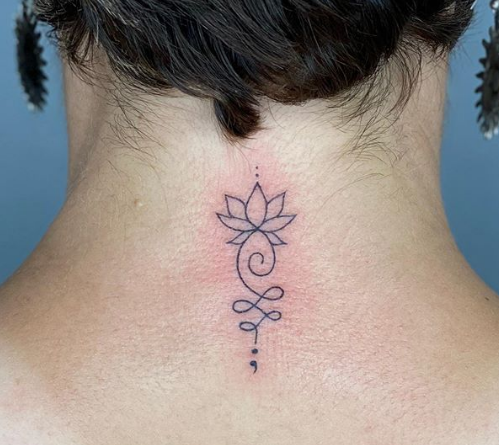 @cassieus via Instagram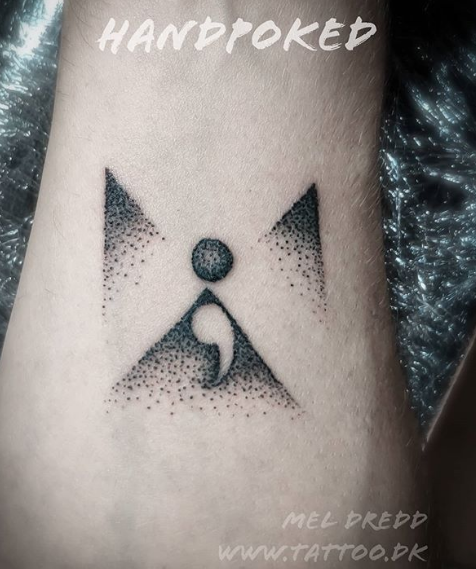 @mel.dredd via Instagram
@iamjuco via Instagram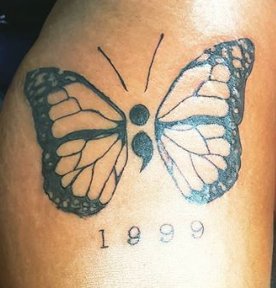 @artbyjpaul via Instagram  
Ideal Locations for Girls to Get Semicolon Tattoos
The beauty of the semicolon tattoo is the small size and unobtrusiveness of this symbol, which you can tattoo just about anywhere. The smallest tattoos can be put on quite visible places without being easily noticed: look at the examples of tattoos sticked behind the ear or on one side of the finger. Some people also put their semicolon tattoos on the back of the foot.
Larger designs and highly decorated tattoos usually determine by themselves where they will be inked or obvious reasons. One of the most popular parts is the inside of the forearm. Some people even specifically put their semicolon tattoo there, in reference to (and to thwart) the practice of cutting their veins. You can also get a semicolon tattoo on the lower or side of your neck, your thigh, and many other areas.

@_arlomoon_ via Instagram
Meaning of Semicolon Tattoo Designs for Girls
The semicolon tattoo is a symbol of hope or survival that stems from an awareness movement called Project Point-Virgule. This project was started in the USA by a woman called Amy Bleuel, in tribute to her father who committed suicide. A. Bleuel has chosen this punctuation mark as the symbol of his project, which aims to help and lovingly surround people with depression or anyone who needs it. According to the Point-Virgule Project website, "A semicolon is used when an author could have decided to end their phase there, but doesn't. The author is you and the sentence is it. is your life. "
Of course, linguistics experts will tell you that the use of the semicolon is not limited to that, but this punctuation mark conveys the idea of continuation well. The semicolon therefore appeared to remain as an image of support and belonging to a community recognizing the pain that many people experience, and particularly those with depression.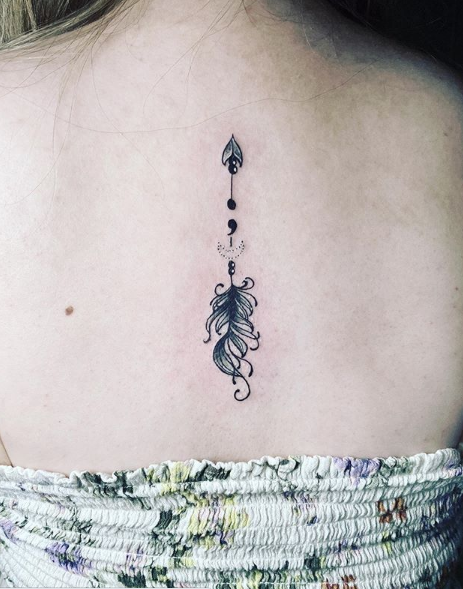 @eytheria via Instagram
This meaning explains many of the usual embellishments that accompany semicolon tattoos. It is quite common to see designs or birds in flight incorporated into this type of semicolon tattoo. This form usually suggests deep emotion. Many people also choose to create their semicolon tattoos in specific colors to associate the message of hope with something more personal: many people use for example the colors of the rainbow, because they belong to the homosexual, transsexual and transgender community.
Just because someone has a semicolon tattoo does not mean that they have thought about or tried to kill themselves in the past. As we said before, the healing power of accompaniment is an important part of this movement. Many people get this tattoo done not for themselves but for some of their friends or family who have had depression or tried to kill themselves.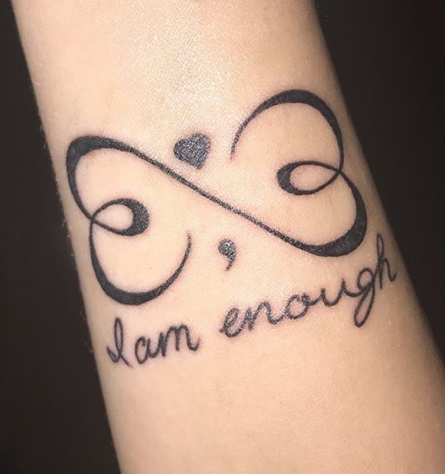 @lilwilson0429 via Instagram
Preparation

T

ips

B

efore

T

attoo

ing

 
Before going to the tattoo artist, eat a balanced meal and make sure you drink enough to stay hydrated during the session. You should also put on clothes that are comfortable and easy to remove to give the tattoo artist easy access to your skin.
Consider bringing something that allows you to pass the time. Many people bring MP3 players so they can listen to their favorite music while they wait for work to finish. Others bring a book or just watch a movie on their cellphone.
If you are on medication or have certain health concerns, you should also report this to the tattoo artist. The rule of thumb is not to go to the tattoo artist if you are sick, so as not to put too much pressure or stress on your body.
---