Gorgeous Stomach Tattoo Design Ideas for Men and Women
Tattoos are cosmetic improvements that are common today. They are used to highlight certain parts of the body of men and women.
In the past, only gangsters and delinquents wore tattoos, which created a stigma that made those who wore tattoos criminals. This unfair prejudice lasted until the 1990s. Prior to that time, society was not ready to accept people who showed their love for body art. But this is no longer the case. Today, the company has finally opened its arms and clearly accepted people with tattoos. Instead of being judged, people with stomach tattoos are now warmly welcomed.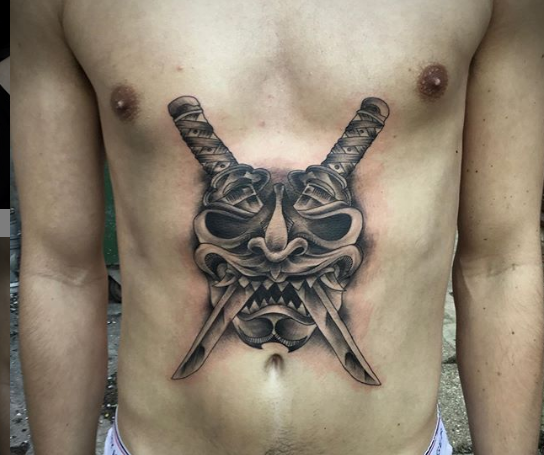 @julientattooart via Instagram
People who belong to a conservative culture often get stomach tattoos that are inconspicuous. Examples of this type of belly tattoo are tattoos on the stomach and back. These body parts will only be visible if you intentionally show them to others. These are the perfect areas for those who are not daring enough to show off their stomach tattoos. And there are various of belly tattoo designs of inktells' contracted artists you can find.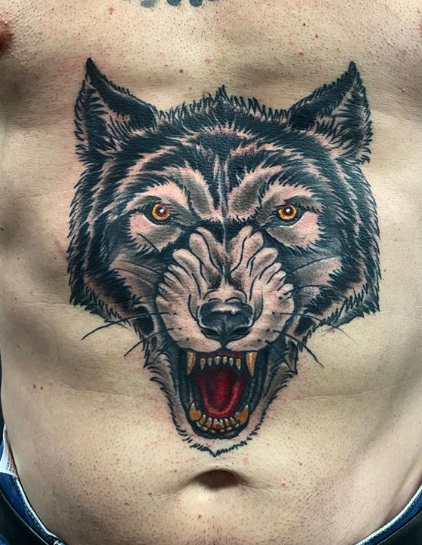 @chrismasontattoo via Instagram
Types of Stomach Tattoo Design Ideas for Men and Women
Belly tattoos are often chosen by women to give a sexy feel. These can easily show off their stomachs without going topless, unlike men. Current fashion trends allow this. Cropped tops are very common among young women. This type of fashion allows stomach tattoo owners to effortlessly show off their body art to the world. However, that does not mean that only women can wear this type of tattoo. Men also get tattoos on their stomachs but you can only notice this if they go topless.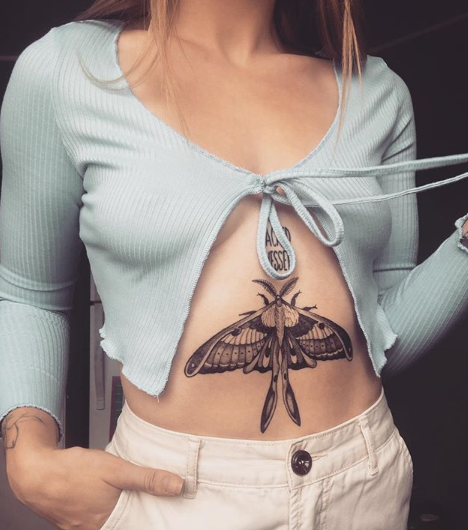 @tuesday.rae via Instagram
Men and women get tattoos on their stomachs for a lot of different reasons. One of the most obvious reasons is that this tattoo adds to their beauty. Another is sometimes to cover up stretch marks, which are often present on women's bodies. Although stretch marks are completely normal on the stomach, especially in women who have had children, these body marks can spoil your overall image. This is the reason why many women get this type of tattoo today.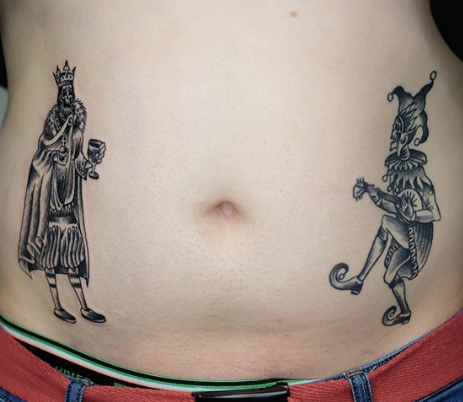 @ceentaur via Instagram
1. Butterfly Belly Tattoo Design Idea for Women
Women love the stomach tattoo designs of butterflies. They are the symbol of their femininity and their grace. Butterflies fly lightly in the air and go wherever they want, making them an ideal symbol of freedom. As a human being, you certainly want all the freedom you can. Just like butterflies, many people dream of breaking free from the chains that nail them to where they are.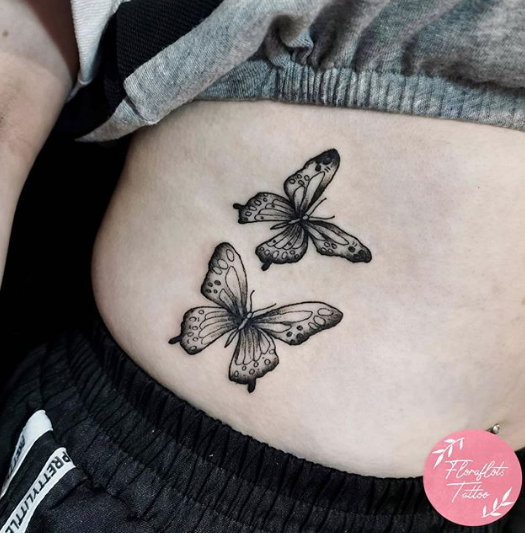 @floraflots_tattoo via Instagram
2. Tribal Belly Tattoo Design Idea for Men and Women
It is also a wonderful design for belly tattoos. Tribal stomach tattoo designs are characterized by their thick lines and peculiar patterns. They are usually done only in black ink. This type of stomach tattoo design also features curves and curls that highlight the eccentricity of the design. Wearing this type of tattoo means that you desire to get closer to your ethnic roots. It also means that you respect the tribes who created this particular type of art.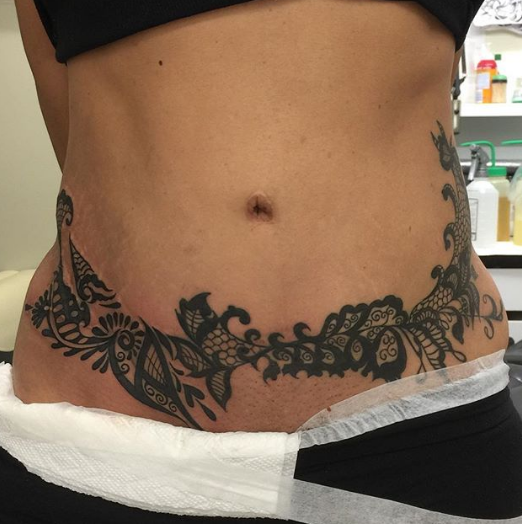 @johnnyboy_tat_ny via Instagram
3. Feather Belly Tattoo Design Idea for Men and Women
This stomach tattoo design is perfect for both men and women. For one reason or another, the feathers seem particularly calming and relaxing. This is probably due to their lightness or their way of sliding in the gentle breeze. This stomach tattoo design represents the carefree nature of the wearer. It indicates that the tattooed person is naturally adventurous and spontaneous.
Meaning of

Stomach T

attoo

 Design

s on the

S

tomach
Belly tattoos have a lot of meanings. You can almost choose any design for this particular tattoo. For example, you can use a tree of life design to cover the stretch marks on your belly. You can even use them to make your stomach tattoo design look better. When you get this type of tattoo done, it is an indirect way to celebrate the gift of life or the ability of women to bring a new being to life.
You can also get an animal tattoo on your stomach. If you love animals, this could be a clear declaration of love for your pet. Animal lovers have a special and emotional connection with their leggy companions. Carrying your pet's head tattooed on your stomach will remind you of this forever. Because, as you know, animals live shorter lives than humans. So if you have lost your companion, it will allow you to wear an image that will remind you of it.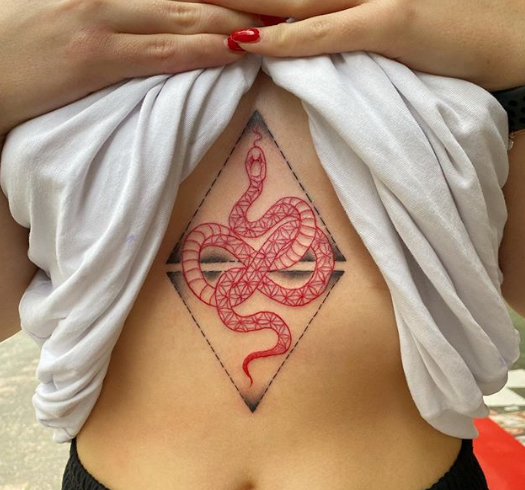 @easyink_ibbenbueren via Instagram
Musical notes will also look very good on the stomach. When you wear this type of stomach tattoo, people automatically assume that you love music or that you are a musician. This stomach tattoo could also mean that you see life as a score and fill it with notes to compose a melody.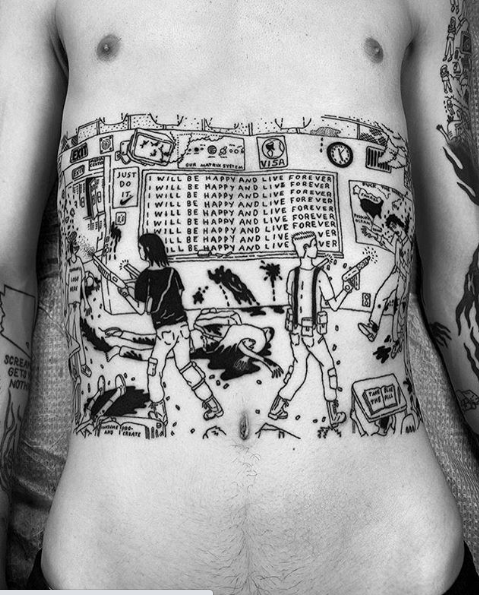 @blackinktemple via Instagram
Ideal Locations of Belly Tattoos
Obviously, belly tattoos are always poked on this area of the body. The only point for debate is how you want to arrange your stomach tattoo design or the angle you want to incorporate into the artwork. But some tattoos are not large enough to cover the entire area. The difficulty will therefore be to determine on which part you want to put your stomach tattoo. Between? Or will the rendering be better on one side? Unless you place it on both sides, mirrored? The answer to this question will depend on the pattern you have chosen.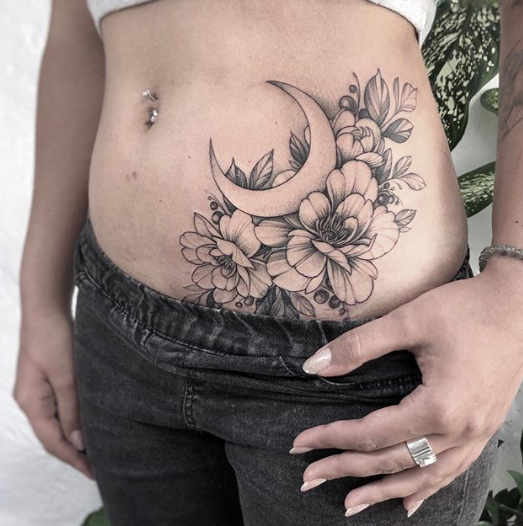 @alex_tabuns via Instagram
For example, if you are planning to have feathers tattooed, they will look good on one side of your stomach. Since the feathers are usually small, the result might be weird if you stretch them so that they cover the entire surface of the belly. If you do, your stomach tattoo won't look so stunning anymore.
Tree stomach tattoos are perfect, placed in the middle of the belly. They are naturally large, so you won't have to worry about stretching them. You can ask your tattoo artist to put the trunk in the center and extend the branches and leaves on both sides of the belly. You can also totally change the placement of this type of tattoo.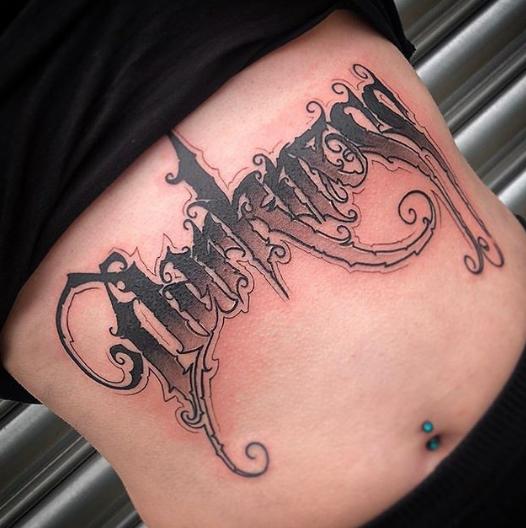 @jamesgibbstattoos via Instagram
Estimation of Production Costs and Standard Prices
The price of your belly tattoo will depend on the size of the stomach design you want to tattoo. If this is your first time getting a tattoo, we strongly recommend that you get a small tattoo. It is difficult to remove a tattoo, but if yours is small it will be easier to remove in case you later regret doing it. Usually a full size stomach tattoo done in black ink costs around $ 50 to $ 200. Larger sized tattoos usually cost between $ 200 and $ 400.
---