12 Best Swan and Seagull Tattoo Design Ideas for Men and Women in 2020
SWAN TATTOO DESIGN IDEAS FOR MEN AND WOMEN
Know About Swan Tattoos
Swans are considered a symbol of lifelong love and loyalty. They are large, magnificent birds, with white or black plumage and slender necks, which spend the majority of their lives on the water.
Their image has been immortalized in different ways over time. Innumerable artistic representations have appropriated their elegance, such as the famous ballet: "Swan Lake", the intense film: "The black swan" or the interesting surrealist painting by Dali, "Cygnes reflecting Elephants". When it comes to artistic representations, it should be mentioned that in the world of tattoos, swans also have a prominent place.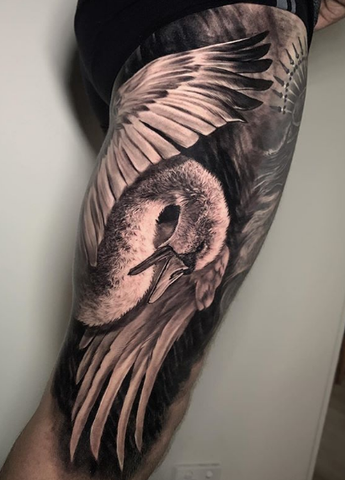 @dylanwebertattoos via Instagram
Characteristic of Swan Tattoos
One of the main characteristics of Swans is their weight: they can weigh between 5 and 8 kilos for females and 8 to 10 kilos for males. In addition to their great weight, they have huge wings that can measure up to 2m40 wingspan, which allows them to fly easily. These birds belong to the genus Cygnus, which includes 7 different species, common in Europe, Asia and part of Australia.
These wild birds are very territorial and can live in colonies of up to 50 pairs. During their life, they are faithful and monogamous: when they are in a couple, they stay together until the death of their partner, which is why these birds are the symbol par excellence of romanticism.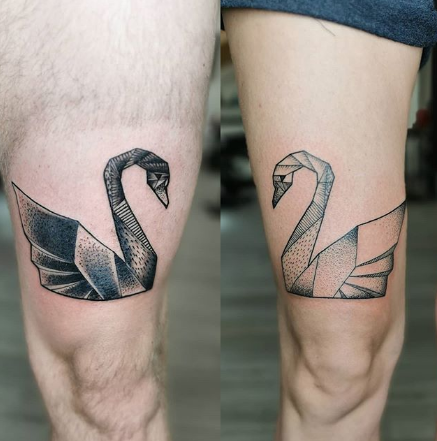 @yogaspanktattoo via Instagram
Meaning of Swan Tattoos for Men
The image of the Swan is synonymous with elegance, purity, love, fidelity and serenity. Thanks to these characteristics, the swan became the hero of legends, tales and artistic representations that are part of the popular heritage.
Let us recall the tale of the "ugly duckling", this poor duckling that nobody liked because it seemed very ugly to other animals and who, growing up, became a magnificent swan and found his place in the world. The swan is a symbol of development and growth, it represents the fact that we all need to find our place in the world. Of course, it is also a symbol of beauty.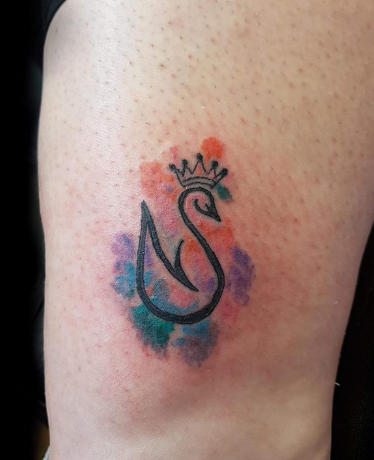 @beautifullyinkedstudio via Instagram
Swan tattoos can be declined in an infinite number of creations, through techniques such as realism, watercolor, geometric shapes, new school or even the Japanese style. Wearing this animal as a symbol imprinted on the body is a growing trend. Women are the ones who show it the most on their skin.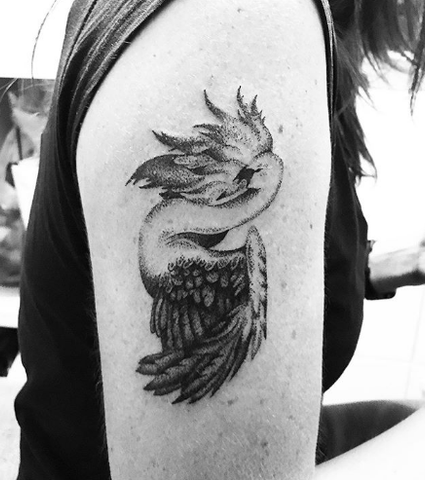 @nereaaprieto_ via Instagram
GET MORE TATTOO DESIGNS FROM INKTELLS:
→Realistic Sparrow Tattoo Stickers
Different Types of Swan Tattoo Design Ideas for Men and Women
1.3D Swan Tattoo Design Idea for Men and Women
This type of swan tattoos can be beautiful as real swans are. This tattoo of two swans on the forearm looks like real and like they are just flying beside this forearm.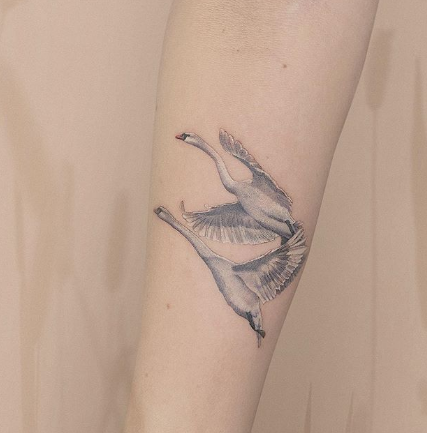 @tattoo.bloom via Instagram
2.Castle and Swan Tattoo Design Idea for Men and Women
As you can see in this following picture, it's inspired by the castle in the air and the land is designed as a white swan. This is a creative swan tattoo you can refer to.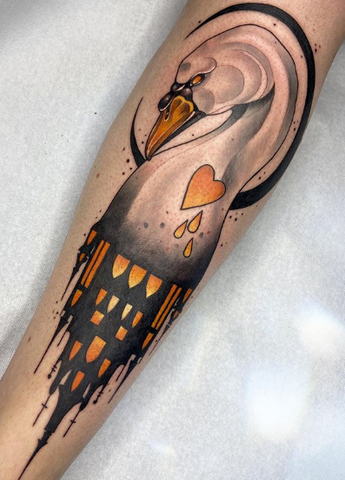 @xin.tattoos via Instagram
SEAGULL TATTOO DESIGN IDEAS FOR MEN AND WOMEN
Are you looking for a feminine tattoo? You can find a large number of designs but we would like to tell you about a very particular design… a seabird… yes! The seagull tattoo.
Before we talk about its symbolism in the world of body art, here are some interesting details that make this magnificent bird a symbolic creature that will fascinate you.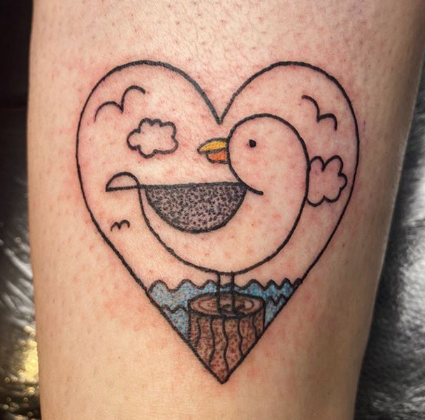 @artbystephiijayne via Instagram
Seagulls have an incredible ability to fly without flapping their wings and taking advantage of the currents of the wind, which allows them to stay in the air for hours without making any effort. They also have a serene, silent and intelligent attitude. Seagulls congregate in colonies to protect themselves from threats.
When we get a seagull tattoo, in a way, we send the world a message of freedom: to fly using the currents of life and calmly continue on our way without opposing them. Seagulls overcome obstacles and can easily cope with difficulties, even easily adapt to different situations, which stimulates and perfects the ability to communicate.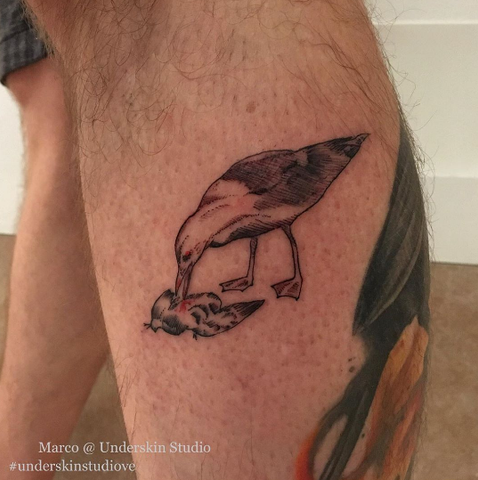 @underskinstudio via Instagram
MORE YOU WILL LIKE:
→Heart Tattoo Design Ideas for Men and Women in 2020
→Tattoo Designs With Ship for Men and Women in 2020
→Fine Egyptian Tattoo Desgin Ideas for Men and Women
In the world of body art, these birds are one of the most delicate and feminine seagull tattoo designs you can find. Seagulls are very popular with women. It is a simple design that is easy to recognize and does not require a lot of detail. They can be used as a template for very small designs and are easy to place on the body. They also look beautiful anywhere.
Usually, they are represented with open wings, flying, to honor their spirit of freedom. Sailors often wore Old School style seagull tattoos with seascapes.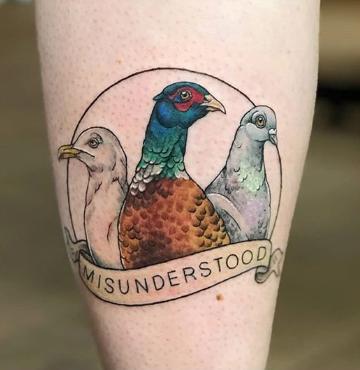 @berfaann via Instagram
Women often place their seagull tattoo on the back, in black, in groups of three (or more) birds and associate them with other elements like the infinity symbol or the word Love. Another design in great demand is the trio of seagull tattoos on the wrist, small in size, which only represents the silhouettes of the birds and is sometimes accompanied by phrases.
The seagulls represented in the style of a watercolor and of large size are rather placed on the ribs. Another very popular design for this place is the black silhouette of this bird. If you opt for a seagull tattoo alone, with black lines or shadow effects, it will look optimal on the arms, which will allow you to clearly distinguish the details of the head and wings.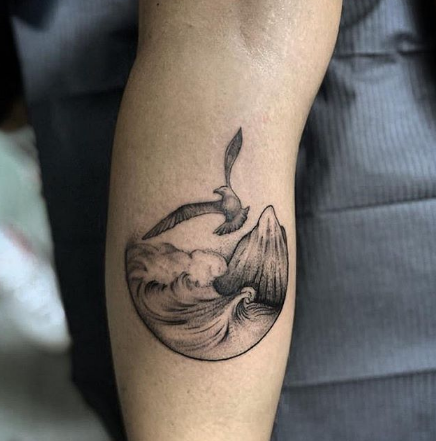 @ale_b_artist via Instagram
Different Types of Seagull Tattoo Design Ideas for Men and Women
1.Several Seagulls Tattoo Design Idea for Men and Women
This kind of seagull tattoo is perfect to be sticked on the back. These seagulls can be in different poses. They can specially express your personality and if you don't want to show off your tattoo all the time, tattoos on the back is just right as you wear cloths when you go out.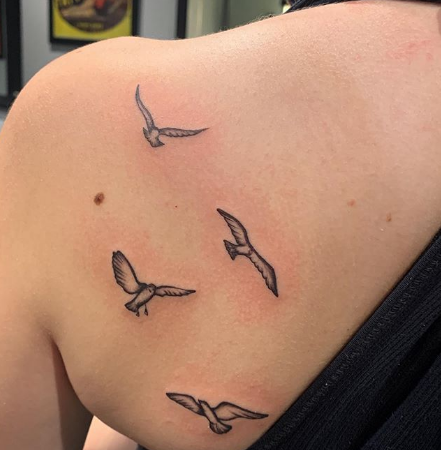 @izzyxmars via Instagram
2.Double Exposure Seagull Tattoo Design Idea for Men and Women
Double exposure designs are always fascinating. If you are a full color lover, you can try this kind of seagull tattoo. It's beautiful and elegant and artistic that tells your passion and kindness.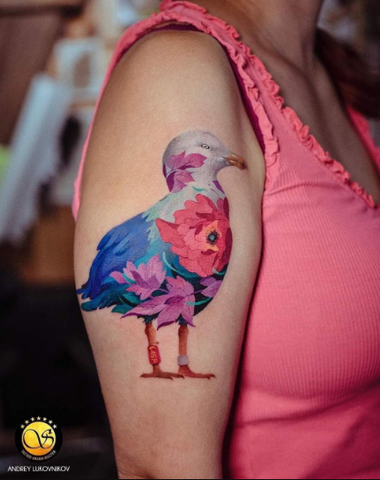 @occultictattoo via Instagram
MORE ARTICLES:
→Meaningful Memorial Tattoo Design Ideas on Memorizing Someone
---