Loving Tattoo Design Ideas for Mother and Daughter
Nowadays, it's not that great for women to get tattoos. People of both gender have the right to express themselves as they wish. If getting a mother-daughter tattoo is a way of expressing yourself, you definitely would love it. Society has become more tolerant of people who wear tattoos, so you don't have to worry about being stigmatized.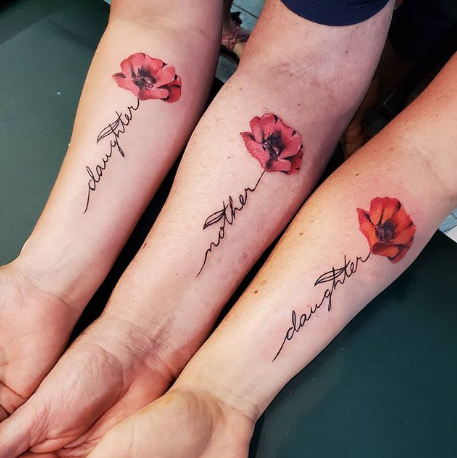 @stanleydraytonbullard via Instagram
Most of the time, women get tattoos with their partner. But today, mother-daughter tattoos have become extremely popular in different places of the world. This trend started in the US in 2015 and doesn't look like it will wane anytime soon. If you don't have one yet, talk to your mom and visit tattoo studios to choose the one that's right for you. Or if your mother is not happy with tattoos, just get some inktells' best tattoo stickers and wear them together. The cause and effect relationship has not yet been clearly explained, but people who have had tattoos of this type have seen their mother-daughter bond strengthened. Wouldn't it be great to have something more in common with your mother than your genes?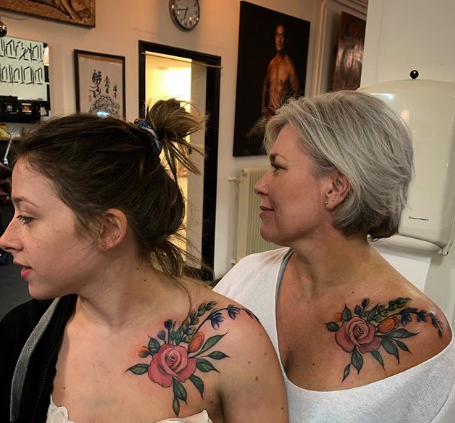 @cest_la_fi via Instagram
Ideal Areas of Mother-Daughter Tattoo Designs
You can literally place a mother-daughter tattoo anywhere you want. However, many people with this tattoo prefer to make it where they can show it off. You should be proud of your matching tattoos and place them where everyone can see them. There are, however, mother-daughter tandems who want their tattoos to be as private as possible. The placement of the matching designs will totally depend on your preferences.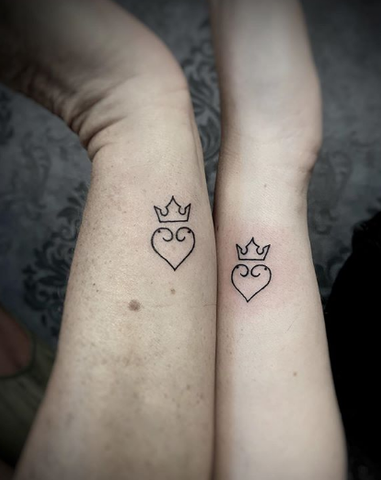 @ritual_x_ink via Instagram
For tattoos like lion teeth or matching butterflies, the arm is a good option. Your tattoo will be even more visible there. When you place your arm near your mother's, the design will complement each other. It's something that you can show off to your friends and other family members.
There are also mothers and daughters who prefer to place their tattoos on the foot. It is also a beautiful place for tattooing - and more private than the arms.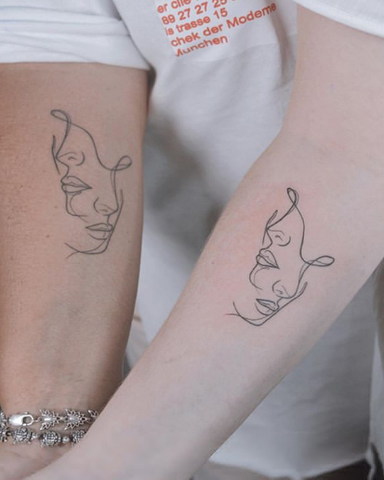 @sokolova_art via Instagram
Types of

M

other

-D

aughter

T

attoo Design Ideas
Mother-daughter tattoos vary according to the tastes and preferences of each family tandem. If you're one of those with a cool mom, you'll probably get a modern art-inspired design. On the other hand, if your mom is a little conservative but still agrees to have a tattoo done with you, you can choose a simpler and more conventional design.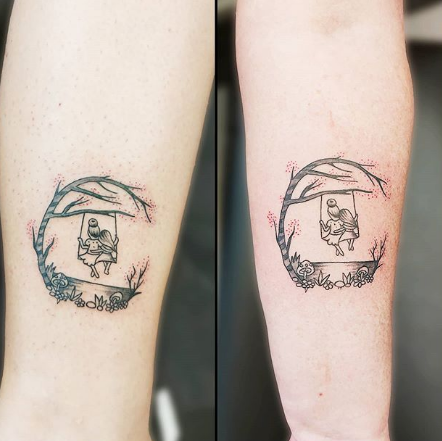 @dori.tatts via Instagram
Here are some of the cutest and adorable mother-daughter tattoos you can check right now:
1. Infinity Symbol Tattoo Design Idea for Mother and Daughter
A mother's love for her daughter is always unfathomable. Usually, mothers prefer to lose everything so that their child will feel good. This Infinite love Tattoo will truly represent the eternal love of a mother for her daughter. This design may seem simple from the outside, but the meaning behind this tattoo design tells everything there is to say about the unshakeable bond that exists between you and your mother.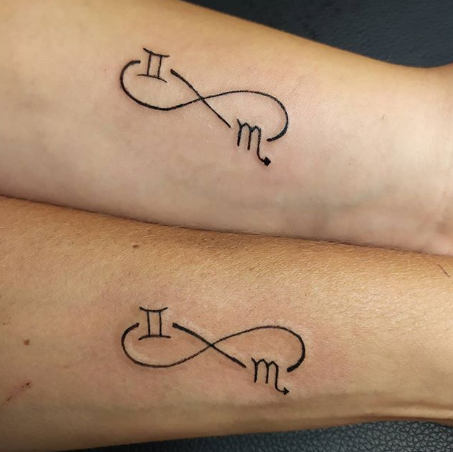 @nothink.tattoo via Instagram
2.
Dandelion

 

Tattoo Design Idea for Mother and Daughter
This is another very popular mother-daughter tattoo. Dandelion are gorgeous flowers that almost all women love. A fragile and delicate flower which disarms itself when the wind blows hard. Dandelions are a symbol of pride, intelligence, resonance, growth, wholeness, purity, healing and new beginnings. Due to these meanings, dandelions have become a widely used design in mother-daughter tattoos. Usually the full flower with stem and head is poked on one arm (it can be mother's or daughter's), while the other arm will have only a few dandelion seeds. When the arms are stuck side by side, it looks like a dandelion seeds swaying in the breeze.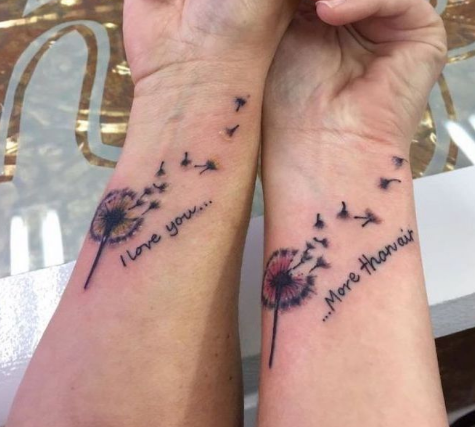 @ArchzineENG via Pinterest
3. Word

 

Tattoo Design Idea for Mother and Daughter
This type of tattoo is often a tailor-made creation. You can choose which quote or words you want to use for your design. Since you decide the text of your mother-daughter tattoo design, it will be more personal. It's a wonderful way to get closer to each other without saying anything out loud.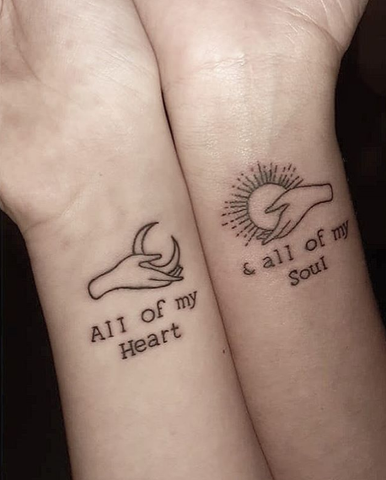 @black.label.tattoo via Instagram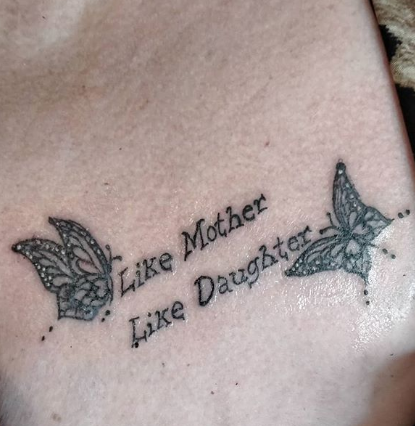 @tattoo_quin_ via Instagram
4. Matching Clover Tattoo Design Idea for Mother and Daughter
A clover especially a four-leaf clover symbolizes good luck. Having this mother-daughter tattoo done with your mom means you wish her all the best. There is nothing more adorable than a child who wants their mom to be lucky for her whole life. After all the sacrifices your mom made, it's time for her to enjoy life with you. Create more happy memories with your mom and get this lucky tattoo yourself as a reminder.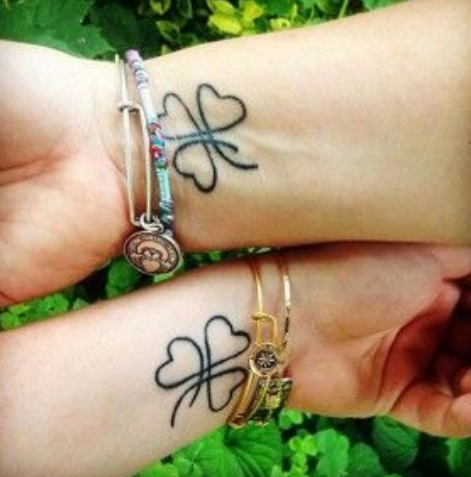 @StayGlam via Pinterest
5. Tattoo Design Idea of Mother With Child
"Mothers with children" have always been a favorite subject for artists and especially for painters of all time. It is a touching drawing that a mother cradles her child. It shows the mother's affection for her little angel. There is no better picture for a mother and her daughter. To your mother, you will always be a sweet little angel, no matter how old you are. As a tribute to your mom's unconditional love, you can both choose to wear this tattoo today.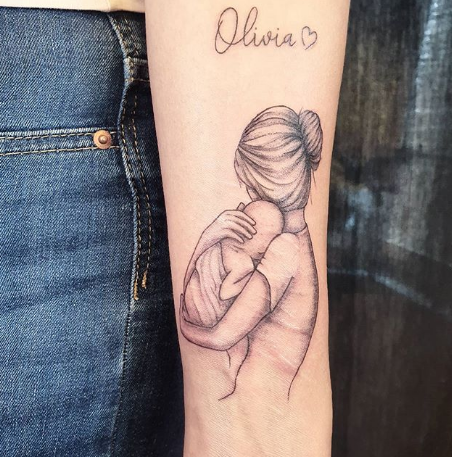 @raudrev_tattoo via Instagram
Meaning of

M

other-

D

aughter

T

attoo Designs
Compared to any other tattoo, mother-daughter tattoos have deeper meanings, something only a mother and her child can intimately share. No matter what tattoo design it is, it will surely contain a message of love from both women.
Over time, your mother has done a lot for you, and sometimes that has included compromising her own happiness. A mother is the only person in the world who will be your best friend and your most loyal supporter. You can express your gratitude for everything she has done for you in a lot of different ways. One of these is to go the extra mile to get closer to her. You can start by getting matching mother-daughter tattoos that will make you remember each other even when you are apart.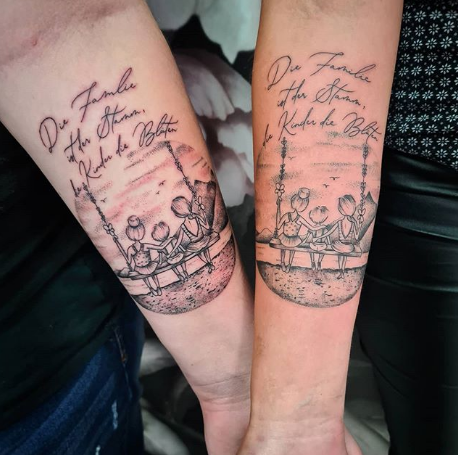 @tattooartistyvonneiron via Instagram
---