Unique Arrow Tattoo Design Ideas for Men and Women
Arrows have been of fundamental importance to almost every culture in the world. They exist among many native peoples and have been used in battles, hunts, dreams, visions, and more. Arrows also exist in history, both ancient and modern or even recent.
The ideas that you can use for your arrow tattoo are limitless. You can create body designs with multiple historical and cultural meanings. You can also create or sketch your tattoo idea and wait for the right moment to tattoo it on your skin. These tattoo ideas can be complemented by decorations that will allow the artist and the tattooed person to add their personal touch. If you are interested in arrow tattoos, you can also visit inktells' tattoo sticker online store. There are numerous kinds arrow tattoo stickers you might be fond of.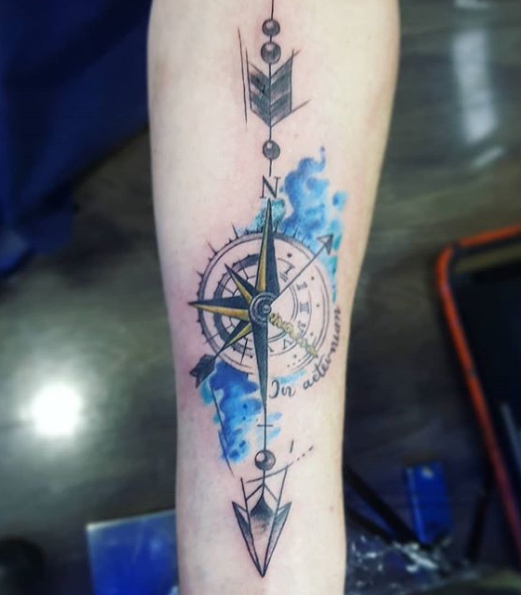 @a_daza01 via Instagram
Meaning of Arrow Tattoo Designs for Men and Women
People who want to find a design that is relevant to their life can choose an arrow tattoo, because arrow tattoos represent going through a lot of important things or searching and then finally finding the right path in life. Arrow tattoos also convey to those who wear them the message that they must keep moving forward and welcome whatever the future holds. Tattoos that depict an arrow pulled out of the bow may be suitable for those who desire to accomplish a lot in life but are unable to do so for several reasons. When the arrow is drawn from the bow, it represents moving forward and arriving at an exciting, positive, and most of all, completely new stage of life.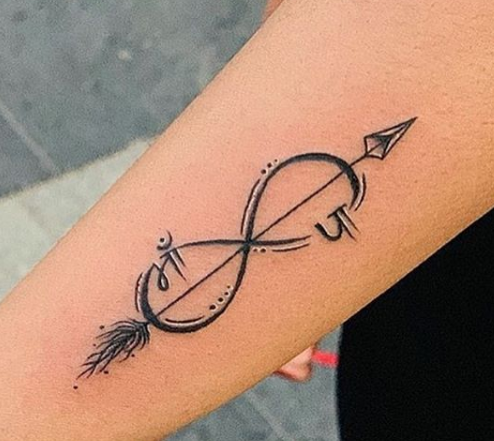 @inked_nationtattoo via Instagram
Arrow tattoos are often seen as a sign of masculinity. This is one of the reasons why the majority of those who get this design tattooed are men but not women. But that doesn't necessarily mean that the arrow design is only for men. Women can wear this type of tattoo too and some even incorporate sub-designs to suit their preferences.
Arrow tattoos are also connected to a zodiac sign, Sagittarius, which is usually represented by a bow and arrow. Arrows are often used to represent love, power, strength and a good sense of direction. They mean you are moving forward, heading in the right direction, or not looking back, to the past. Another meaning behind this symbol is that you are about to leave your old life, forget your grievances or mistakes you made, and look for a second chance in life. The arrow tattoo is connected to positive feelings; that is why every time you look at your body art work you will remember your strength.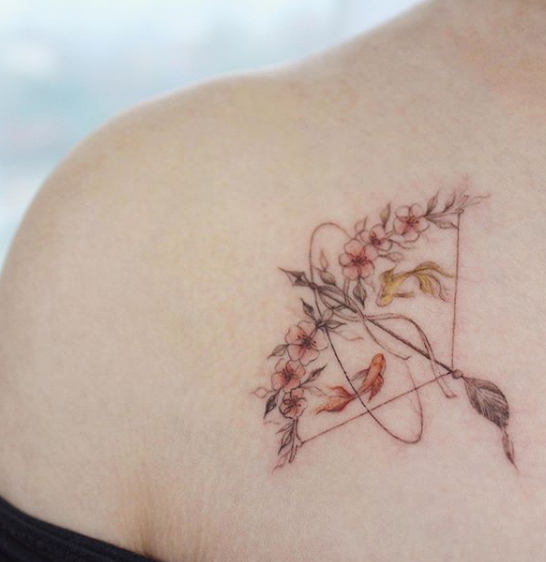 @tattooist_giho_ via Instagram
Ideal Location of Arrow Tattoo Designs for Men and Women
You can get a small arrow tattoo design tattooed on your ankles, wrists, fingers or ears. Larger or medium sized tattoos can be placed on the legs, shoulders, chest, thighs, arms, ribs or back.
Getting an arrow tattoo design on your foot is also about moving forward into new life. This type of tattoo symbolizes going in a new direction, without remembering the past.
Some people prefer to place their body art work on the spine, but this process is very painful. The spine is one of the last places people should place a tattoo, because the backbone has 36 bones, 34 of which run from the bottom of the neck to the pelvis.
If you fancy having a sexy tattoo, the best place to do it is on your lower back, stomach, back, ribs, and thighs.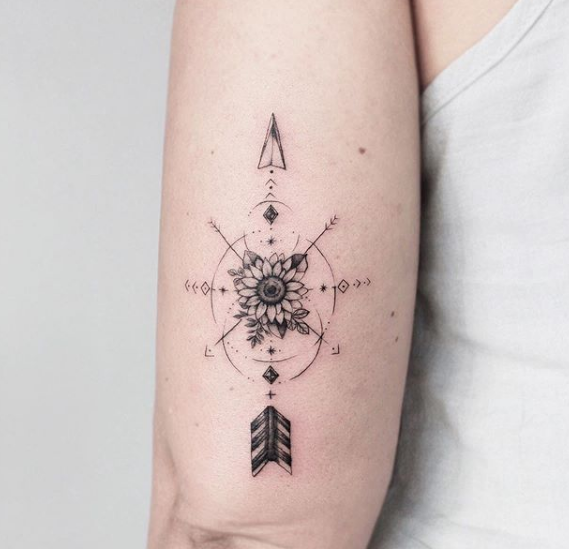 @minkooa via Instagram
Types of

A

rrows

T

attoo Design Ideas for Men and Women
1. Broken Arrow Tattoo Design Idea for Men and Women
Another popular design in simple arrow tattoos is the broken arrow. Those who wear broken arrow designs are often just heartbroken people. Some might think that the concept of this type of tattoo is a bit dubious but they are wrong. Depending on the placement, broken arrow tattoos are always extraordinary, especially if you combine them with other spectacular symbols that will help convey the meaning. Desired message to those who watch them. Besides a broken heart, this tattoo can symbolize peace and mean that conflict is never a valid response.
An arrow tattoo can be accompanied by diamonds, hearts, stars, quotes, feathers, flowers, and dream catchers. Arrows look great with text, because the shape of the arrow allows you to place the text right in front of it and the result is an arrow tattoo design looking pretty cool. Other popular designs to combine with an arrow are also the compasses and the Nautical Star.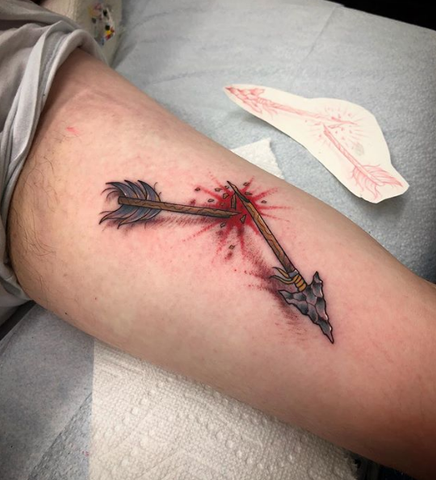 @tattoosbyprdmn via Instagram
2. Simple Arrow Tattoo Design Idea for Men and Women
It is one of the most common types of tattoo designs. When it comes to symbolism, a simple arrow tattoo can be pointed in a specific direction. In real life, arrows serve as protection against what is negative. An arrow can change its meaning depending on the other symbols accompanying it. A single arrow can represent peace and the end of a long conflict.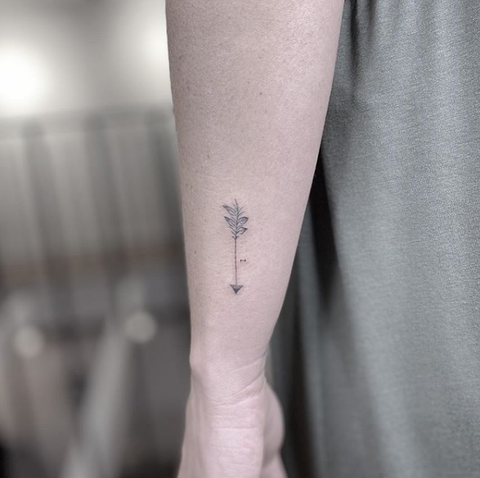 @ finitoo via Instagram
3. Crossed Arrow Tattoo Design Idea for Men and Women
Two arrows placed in a cross can symbolize a strong friendship with someone or a group of friends. You can use this type of tattoo as connecting tattoos with good friends. But two arrows looking in different directions represent war, so be sure to be specific when getting this arrow tattoo.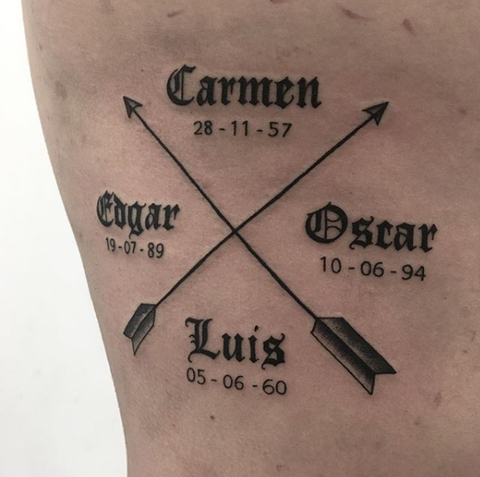 @aberknxwledge via Instagram
4. Several Arrow Tattoo Design Idea for Men and Women
A tattoo that shows a group of arrows represents strength, readiness for war and unity. This type of tattoo has been around for a long time and traces of it can be found in the cultures of native American groups. At that time, arrow tattoos representing several arrows were seen as a union between different tribes in times of war or between several families hunting together their food. In Mongolia, arrow tattoos with several arrows represented the teachings of Genghis Khan on the importance of family and the unity of his children.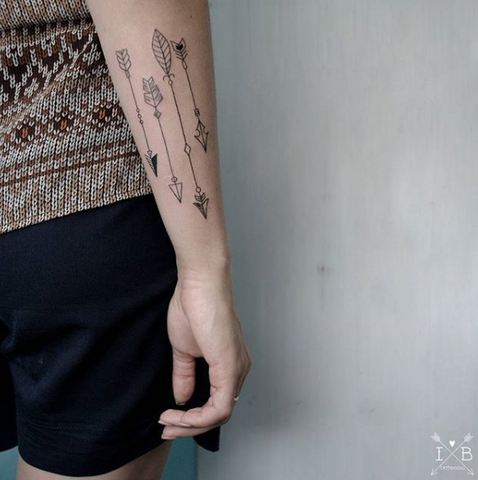 @irenebogachuk via Instagram
Preparation

T

ips

B

efore 

Getting an Arrow Tattoo
Before deciding to get a tattoo, you should tell the tattoo artist if you have any allergies, skin problems, a disease like hemophilia or diabetes, a tendency to bleeding, low or high blood pressure or if you are pregnant. If you decide to get an arrow tattoo while you're pregnant, see a doctor before going to the tattoo artist. Also, no one should go to the tattoo artist if they are tired or hungry.
You should not put any products on the tattooed area before getting an arrow tattoo, or use chemical exfoliators or ointments. Also, do not go tanning and avoid cutting or scratching yourself, especially on the area that will need to be tattooed. Maybe you don't want to get a tattoo so soon, try some inktells' arrow tattoo stickers today!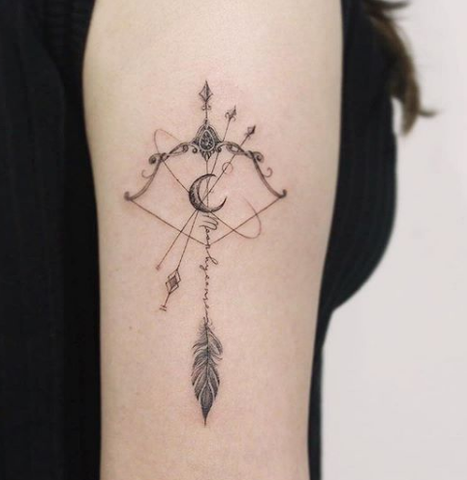 @tattooist_giho_ via Instagram
---