Super Viking Tattoo Design Ideas for Men and Women
The Vikings were a group of warriors from Scandinavian countries like Norway, Denmark and Sweden who between AD 700 and AD 1100 (period known as the Viking Age) aimed to invade Europe, Asia and the North Atlantic. They were known for their gifts as sailors and navigators. Viking's name comes from a language called "Old Norse" and means "pirate raid". The Vikings sailed long ships called longships and plundered the coasts of Britain and northwestern France for centuries.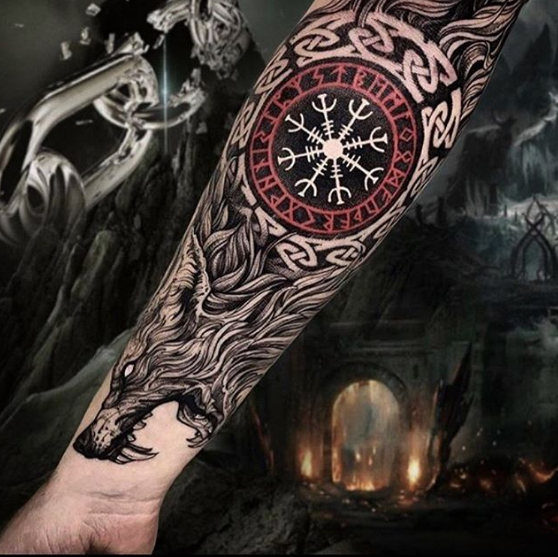 @valhalla_nation via Instagram
Viking symbol is not suitable for large-area tattooing. If you want multiple ones, come and get some inktells' tattoo stickers, which are in good quality and realistic. You can apply them easily and remove them whenever you want. The temporary ones last for 2-4 days and if you want long-lasting stickers, try our semi-permanent ones.
Different Types of Viking Tattoo Design Ideas for Men and Women
1. Helm of Awe Tattoo Design Idea for Men and Women
The design of this symbol has eight armed pikes that start from a central point. This symbol represents protection and superpowers.
Many Viking warriors wore this symbol to go to war, because they believed it would protect them and give them the courage to defeat any enemies they fought.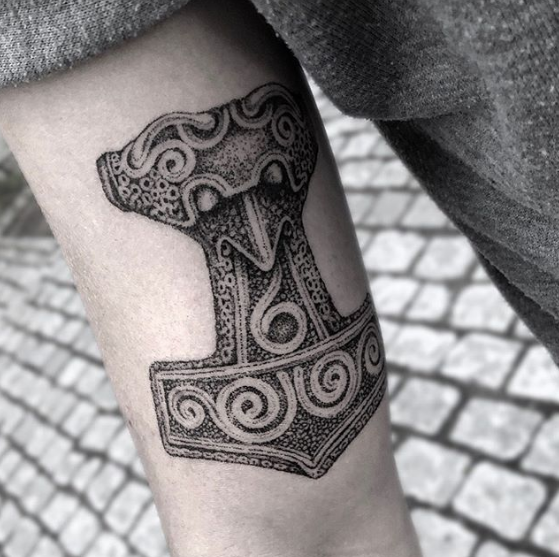 @vik__ink via Instagram
2. Valknut Tattoo Design Idea for Men and Women
The Valknut is formed of three intertwined triangles with the tip pointing upwards. In a large number of representations, this sign appeared near Odin, which made him the symbol of this God. Many ancient Vikings believed that the Valknut represented Odin's welcome to warriors arriving at Valhalla, the place reserved for the brave in Asgard.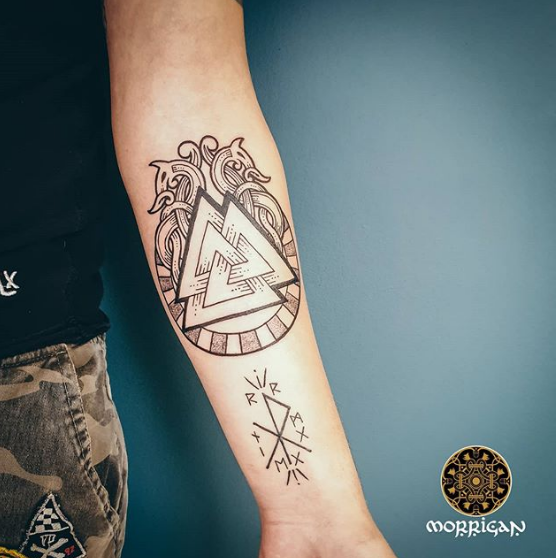 @morrigantattooartist via Instagram
In our society, the sign of Valknut has become very popular in the designs of jewelry, artifacts and tattoos. Many who wear this sign believe that they will receive help from Odin to overcome the difficulties of life.
GET SOME TATTOO DESIGNS FROM INKTELLS
→Cartoon Dinosaur Cute Stickers
→Handwritten Sentences Tattoo Stickers
3. Yggdrasil Tattoo Design Idea for Men and Women
Yggdrasil was the Great Tree of Norse mythology. This ash was considered the Tree of Life which controlled the Nine Worlds and connected everything in the universe.
Yggdrasil's symbol stood for absolute power, deep knowledge, and mystical deity.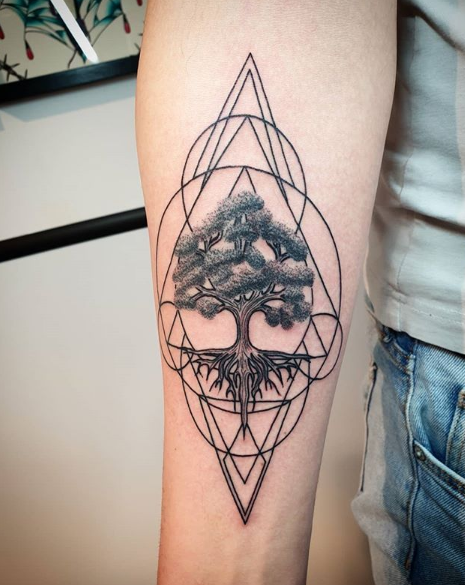 4. Thor's Hammer Tattoo Design Idea for Men and Women
Thor's hammer was named after Mjölnir. In Norse mythology, this mighty hammer commanded such respect that no other weapon could be compared to it. This hammer was associated with lightning, thunder and storm.
For common Vikings and warriors, this hammer was very important because Mjölnir was the symbol of Thor - the most powerful of the god and the one with the best heart. Vikings wore this amulet in battles and in everyday life.
This symbol gave them power, courage and generosity.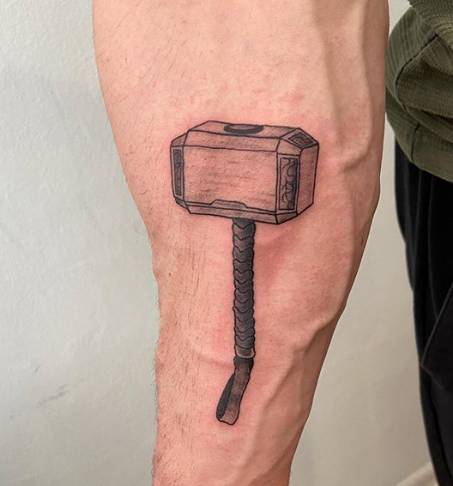 @tattoos.by.sami via Instagram
5. Ouroboros Tattoo Design Idea for Men and Women
The ouroboros is a symbol of a snake biting its tail. As "Oura" means tail and "Robos" means to eat. The meaning of the word could be: "He who eats his own tail". If you have some Norse knowledge, you certainly know that this symbol was that of Jormungandr, the Norse Serpent of Midgard, whose father was Loki, the famous deceiver.
The symbol of Ouroboros expresses the unity of all spiritual and material things. It also represents the eternal cycle of rebirth and destruction.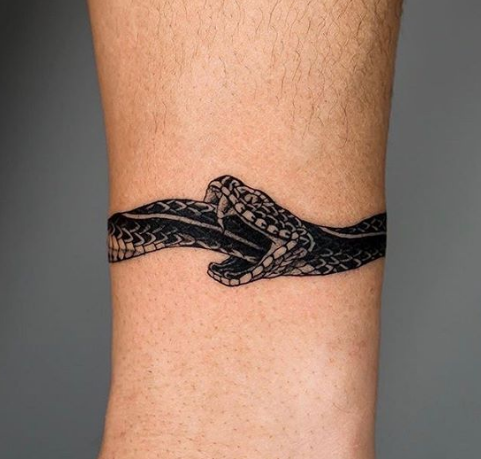 @theartoftattooingofficial via Instagram
6. Troll Cross Tattoo Design Idea for Men and Women
This symbol was very popular and present in many Viking homes. The power of this cross was to protect from evil trolls, demons and negative vibrations that might be in the surroundings.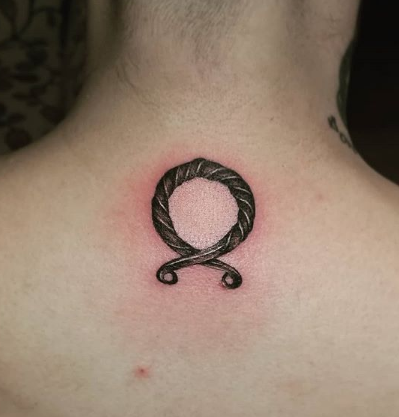 @brittany_ashmore_tattoos via Instagram
7. Wyrd Canvas Tattoo Design Idea for Men and Women
The Web of Wyrd, or Viking symbol of fate, was a powerful sign that came in the form of runes. It was made by the Norns, the goddesses of fate, who wove the destiny of all beings. This symbol was a reminder that actions of the past affect the present and that the present can affect the future. Usually it was a sign of universal interconnectivity.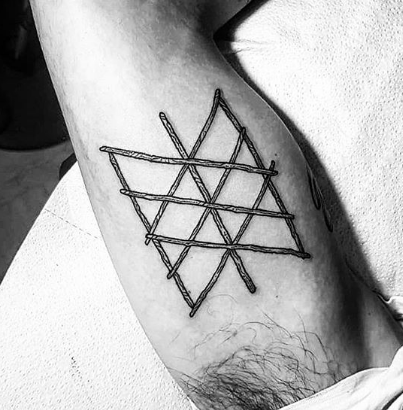 @sammyohyeah via Instagram
8. Vegvisir Tattoo Design Idea for Men and Women
Vegvisir means "the indicator" or "the one who finds the way". The Vikings carried the Vegvisir with them because they believed it would guide them, allowing them to reach their destination. Whether at sea or elsewhere, this sign would bring them home safe and sound.
Nowadays, some people think that Vegivisir tattoos will not allow them to take the wrong path in life.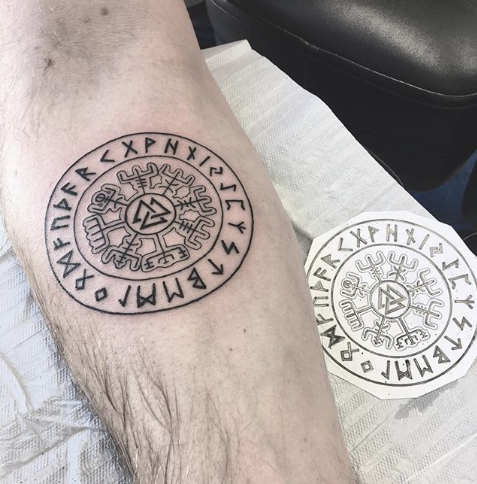 @peppermintmaryy via Instagram
9. Rune Tattoo Design Idea for Men and Women
The runes were the common alphabetical system of the Vikings. But they weren't really used for communication purposes: runes were usually used to call the gods and ask them for help.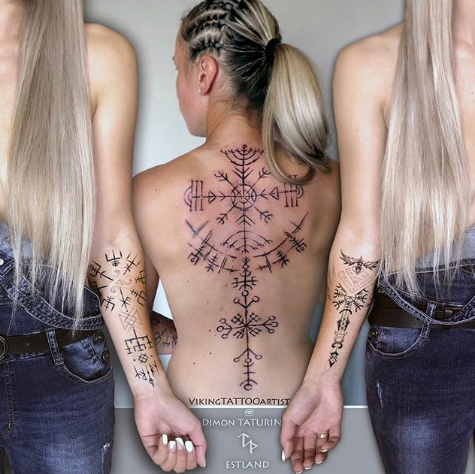 @unleashtheviking via Instagram
Did the Vikings Have Tattoos?
According to the story, the Vikings were covered in tattoos ranging from the fingertips to the back of the neck. These tattoos depicted ancient Nordic symbols, different knot patterns or dark green tree symbols. No one can really confirm what sort of symbols or patterns were used for these tattoos, but it is likely that they depicted symbols from Norse mythology and ancient designs similar to those found on Viking jewelry. Or carved on bones, boats or other artifacts.
There are some risks you may face when tattooing or in aftercare, if you are afraid of these, just try and share inktells' tattoo stickers which are affordable and easy to apply and remove. These stickers take you less than 30 seconds to apply them to your body. Temporary tattoos last for 2-4 days on average, and semi-permanent tattoos last for about 15 days. It's best not to compromise with a bad tattooist just because you are "dying" to get a tattoo, you can keep using tattoo stickers until you meet the right one.
YOU WILL ALSO LIKE:
→Remarkable Family Tattoos Design Ideas for Men and Women in 2020
→Best Dynamite Tattoo Design Ideas for Men and Women in 2020
→Supreme Marvel Tattoo Design Ideas for Men and Women
→CAN WOMEN TATTOO DURING PREGNANCY OR WHILE BREASTFEEDING
---