Best Wedding Tattoo Designs for Couples
Introduction of Wedding Tattoo Designs for Couples
How to hold love together forever? Get wedding tattoo designs on your fingers instead of rings. Fashionable, creative, unusual and forever. Well, or certainly for a long time!
Some couples seriously lack wedding rings to prove marriage and loyalty to a friend, and they decide to get the same wedding tattoo designs in honor of their wedding day. If you consider yourself one of such couples, this article will be useful to you, but think well. Are you ready to wear a wedding tattoo design that will stay with you forever? If your answer is still yes, then let's think about how to make the master's work exceed all expectations.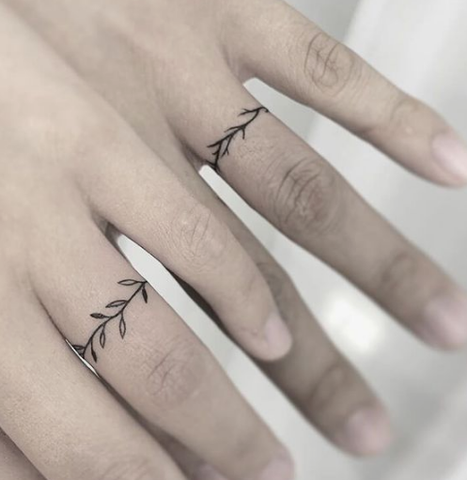 Wedding tattoo design of @WeLikeTattoo via Pinterest
Some newlyweds want to perpetuate their feelings with tattoos that will stay with the person for life. This is a very romantic act, because such wearable images will personify the love of partners and carry special meaning for them. A wedding tattoo design, like a wedding ring, will become a symbol of love and fidelity for a husband and wife.
In addition, the application of such tattoos is one of the trends in wedding fashion and is gaining more and more popularity.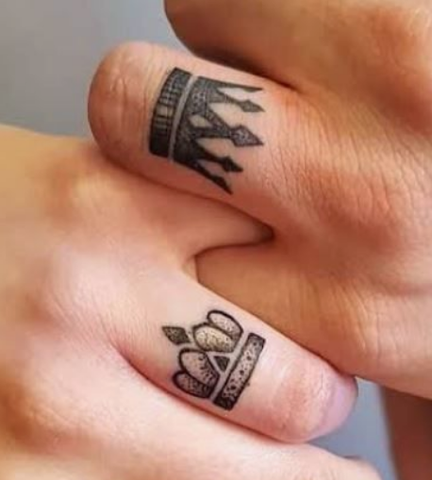 Wedding tattoo design of @tattoomenowofficial via Pinterest
If you want to get a wedding tattoo design, then we offer you a list of the most frequently sticked wedding tattoos among newlyweds:
Wedding date in Roman numerals on the wrist
Claddagh rings on the back, which are symbols of eternal love and friendship
Cupid's arrowstattooed on the ring fingers that will demonstrate the deep feelings of the newlyweds
Identical anchors on the bodies of partners will mean that their owners have finally found their berth for life.
Wedding tattoo design with the image of two hearts
A symbolic inscription, the meaning of which will be clear and meaningful for two lovers
The image of a key and a lock symbolizes that partners are made for each other.
The popular symbols Yin and Yang not only identify the feminine and masculine but also symbolize the harmony of the couple.
Image of wedding rings on the ring fingers
Infinity sign on fingers
Second half initials
There are a lot of wedding tattoo options. The main thing is that both partners like the selected drawing and symbolize true love for life.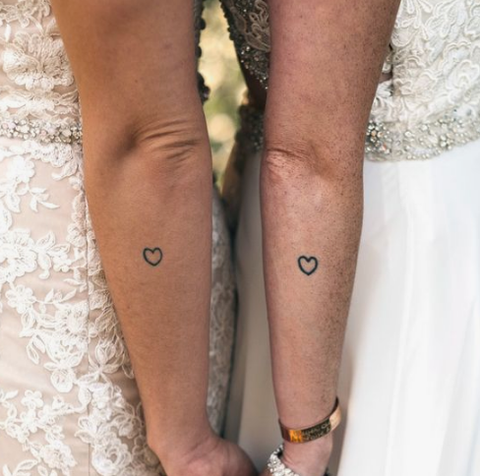 Wedding tattoo design of @Here Comes The Guide via Pinterest
GET MORE TATTOO DESIGNS FROM INKTELLS:
Stars and Wedding Tattoo Designs
I just want to slightly alter the well-known phrase and say: "Never say" forever "! Because the tattoo ring, although it really cannot be lost or removed, but it can be remade. This is exactly what Pamela Anderson had to do, to whom we, in fact, owe the birth of a fashion for tattoos instead of wedding rings. When she married Tommy Lee, she tattooed his name on her ring finger. And after the divorce, I changed the inscription "Tommy" to "Mommy" (mommy). Love for a mother is certainly more durable than for men! Therefore, if you don't truly think that he/she is the one, don't get a wedding tattoo design on impulse.
By the way, Beyoncé and Pink also have wedding tattoo designs - the singers and their husbands have wedding dates on their fingers. It's funny that Pink once joked that in the event of a divorce, she would have to chop off her finger. It's good that so far no reason to do this has been presented!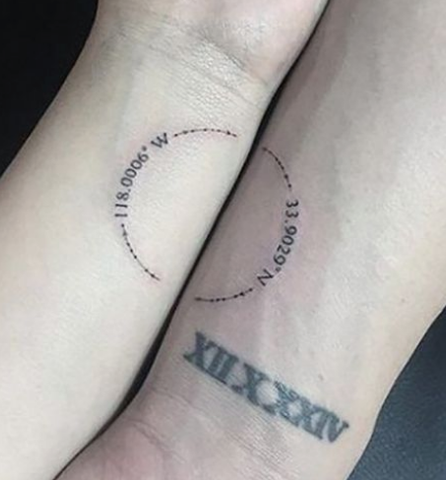 Wedding tattoo design of @TheTrendSpotter via Pinterest
But let's be serious, no jokes. If you really want to get a wedding tattoo, think carefully. Because this small and harmless drawing still has several significant disadvantages. I will not talk about "forever" - for some, it is not a minus at all, but a plus. And the main drawback is this - "small" tattoos often quickly fade, wear off and deform. This is especially true for fine lines and contours. And on the fingers it happens even faster - just remember how many times a day we wash our hands. And the wedding tattoo design on the fingers heals much longer. All for the same reason - not getting your hands wet for several days is very problematic. So if you want to get a truly "eternal" and beautiful sign of love instead of rings, give up too graceful lines and choose a wedding tattoo design that will be unharmed for many years. Hopefully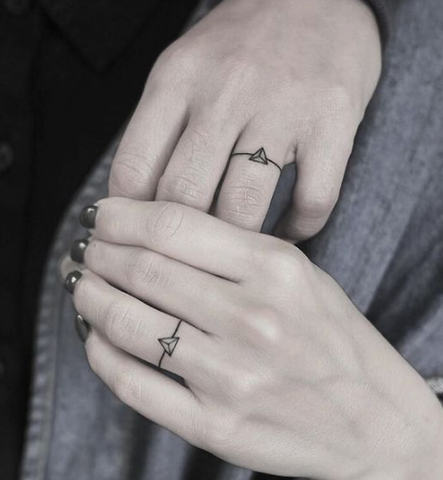 Wedding tattoo design of @WeLikeTattoo via Pinterest
MORE YOU MIGHT LIKE:
→
Special Tree of Life Tattoo Design Ideas
→
Cute Tiny Tattoo Design Ideas
→
Gorgeous Heart Tattoo Design Ideas
Different Types of Wedding Tattoo Design Ideas
We don't think it's worth talking about the fact that before going to a tattoo artist, you need to weigh your decision a thousand times. Of course, we all would like to be married only once in our lives and live a happy life with our loved one. But anything happens, and we can never think ahead. Therefore, make sure that you really want to stay with this person forever, pay attention to the signs of compatibility - and only then get a wedding tattoo design.
If you decide to make wedding tattoos for two, just remember that in a pinch you can always "interrupt" or reduce with a laser. It is for this reason that it is recommended to choose the simplest drawings, and the less the better. Very risky newlyweds choose large images that completely cover any part of the body. Decide for yourself how the wedding tattoo will reflect your relationship: you are ready to share your personal life with everyone, or you agree with the saying: "Happiness loves silence."
Wedding Tattoo Design: Minimalism
The simplest thing that can be done is to depict on the fingers, in fact, the rings themselves or minimalistic ornaments that resemble them.
Wedding tattoo design of @risco.raquel via Instagram
Wedding Tattoo Design: Memorable Dates
A great move - so even the most forgetful husband will no longer have a chance not to give you a gift for your wedding anniversary.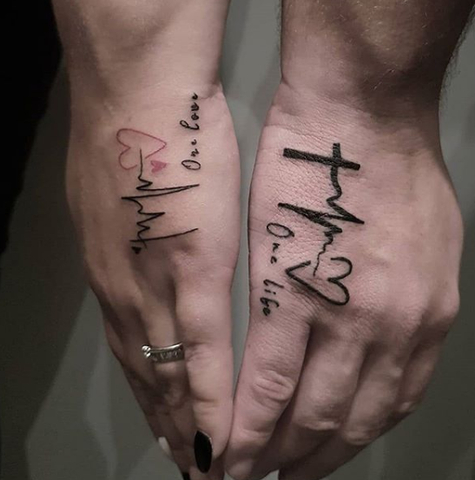 Wedding tattoo design of @eventswedo via Instagram
Wedding Tattoo Design: Name
The name or just the initials of a loved one is also great. But, alas, such graceful tattoos will have to be updated every couple of years. Ready for such sacrifices for the sake of love - then go ahead.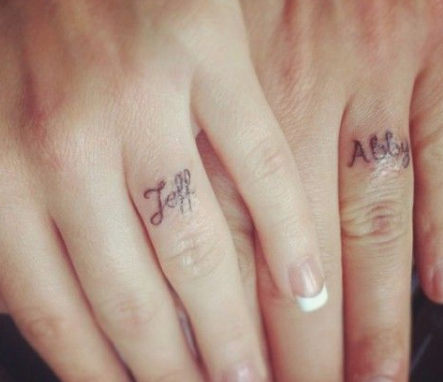 Wedding tattoo design of @Weddingomania via Pinterest
Wedding Tattoo Design: Signs and Symbols
Each couple has their own secret signs of love. Do you want to publish them? Then let them be on your fingers instead of wedding rings.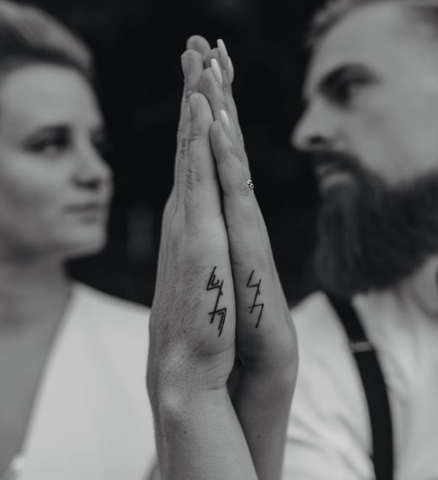 Wedding tattoo design of @girlsofhonour via Instagram
Wedding Tattoo Design: Funny Pictures
Well, this option with bright or funny pictures is for the most creative, funny and resourceful.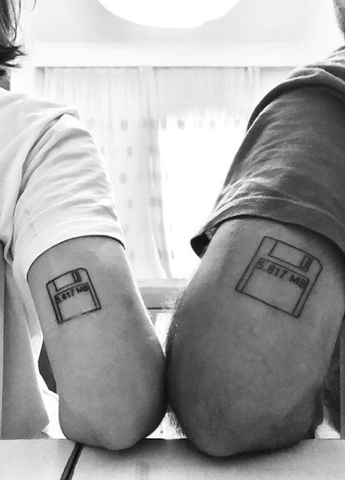 Wedding tattoo design of @maria.zafeiraki via Instagram
MORE ARTICLES:
→Matching Couple Tattoo Design Ideas to Express Your Love
→Fine Line Style Tattoo Design Ideas
Preparation Before Getting a Wedding Tattoo
Choose a tattoo artist wisely. It is better to study dozens of sites and wedding tattoo designs on Instagram than to regret what can no longer be fixed. The experienced craftsman has specialized diplomas, well-equipped premises and a satisfied client base.
Get ready for a little pain. Different parts of the body have different sensitivities, and if you have low pain tolerance, it makes sense to discuss with the artist the place where you want to get the tattoo. Instead of having the wedding tattoo design on your finger, consider getting a matching design elsewhere on your body, such as your wrist or forearm.
Wedding tattoo designs on fingers and arms are known to fade over time. Don't expect your cute little diamond design or your significant other's initials to be of exceptional quality for a long time, so choose your wedding tattoo design with that in mind. Just remember that the wedding tattoo design will stay on your body forever, so make sure to pick a wedding tattoo design that you enjoy looking at.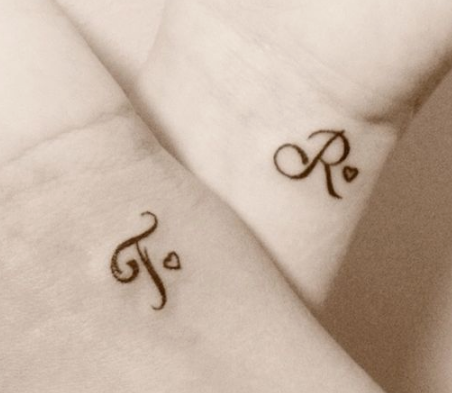 Wedding tattoo design of @tattoomodelss via Pinterest
---